Welcome to Midori's RedBubble Gallery.
I am a Japanese-Born, Sydney based Contemporary artist.
Little bit about my name…
When my parents decided to call their beautiful baby daughter "Midori", the Japanese liqueur company hadn't released their sweet green alcohol yet.
"Midori" is a common girl's name in Japan. It means the colour green.
These days when I tell my name, people often say,
"Oh, cool!! The Green Liqueur!!!"

……………….Cheers!!!
…………………………………………………………………………..
<<<<2014>>>>
Midori's new project, "Fold with Love III" at "The Rocks Pop Up" is coming very soon. She is waiting for the final approvals. Midori's pop up shop will be on George Street, the Rocks, Sydney. The shop will be opened Wednesdays- Sundays.
She will share more informations with you shortly.
…………………………………………………………………………..

All rights reserved. My artworks do not belong to the public domain.
Check my Website www.midorifurze.com

…………………………………………………………………………..
"FOLD WITH LOVE – 1000 paper cranes"

The origami art exhibition "Fold with Love – 1000 paper cranes"
@Artspace Level 1, Sydney Children's Hospital, Randwick
22 Sept – 25 Nov 2011
"Fold with Love – 1000 paper cranes" is a project based on the Japanese legend of 1000 paper cranes. A Sydney-based Japanese artists, Mayu Kataoka and Midori Furze collected over 3000 paper cranes from many people to do an installation work on the hospital walls for the children at Sydney Children's Hospital.
The project was the 2011 Sydney Children's Hospital Foundation art program ArtEx, in partnership with the Sydney Children's Hospital School.
Each crane was folded by hand. The cranes came in many different sizes and many different kinds of paper folded by many different hands. Mayu and Midori believes that everyone can fold a paper crane – it is small and takes only a few minutes of their time, but 3000 of them together on the wall become a beautiful and a very powerful decoration.
Big thanks to their families, friends, people from Louis Vuitton, Sydney Children's Hospital, the Hospital School, the Hospital Foudation, and everyone who contributed their time and folded paper cranes for the project.
Check our blog : http://foldwithlove.blogspot.com/
…………………………………………………………………………..
"Fine Art & Decorative Paintings" Magazine
I sometimes write articles on art magazines.
Here is the latest issue with my article in it. (Sept 2010)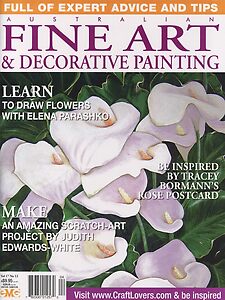 Vol 17 No 12
Vol17 No3
How to draw a lipstick girl
…………………………………………………………………………..
Art exhibition "Make up Your Mind"
@Cafe Chill, Manly
4 – 29 September 2009
The best works from the group Make up Your Mind were in the exhibition which took part of Manly Arts Festival 2009 in September.
Hosted by www.creativemums.com.au . Supported by RedBubble.
Opening with Karen Pini former Miss Universe runner-up and Channel 7 presenter.
It was started when my friend, Angela van Boxtel suggested to create artworks with the recycled old make-up porducts and run the workshop.
I run the workshop Make up Your Mind at Manly Library in May 2009. More than 70 mothers and daughters enjoyed creating the artworks with the recycled old make-up products.

"WOMANLY" Tshirts exhibition
27 Sep 09 @Manly Cove Beach, Sydney Australia
Angela and I organised an outdoor t-shirts exhibition in 2009!!! A largest clothesline ever seen was erected at the beach front and over 120 t-shirts were exhibited between the Manly Wharf and Manly Art Gallery & museum.
The exhibition was hosted by Creative Mums.
Supported by RedBubble. Many RedBubblers from the group Womanly took part of this exhibition and sent us their wonderful designed RedBubble T-shirts!!
It took part of Manly Arts Festival 2009 . Manly Mayor, Jean Hay poped in and say hello to us and bought Angela's T-shirts!!
………………………………………………………………………………………………
I had a studio space with two fellow artists in Sydney's Northern Beaches in 2012. We had to close the studio after 12 months but it was a great exposure and it was a really wonderful experience.

By Rod Bennett, Manly Daily March 2012
frozenfa featured me on her blog Twisted fa

Featured Artist
Best of showcase
PiMT website BEST of SHOWCASE
RB chain interview: frozenfa interviewed Midori
Music Inspired Art (M.I.A) Interview by tkrosevear
Nichigo Press (The Japanese magazine in Australia) Sept 2010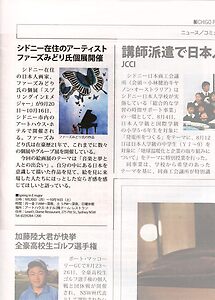 Daily Telegraph (Sydney, Australia) 3 Setp 2010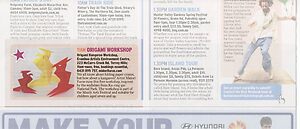 Midori's article on a magazine!!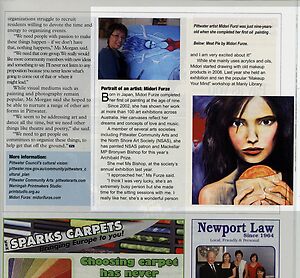 Peninsula Living Magazine March 2010 (Pittwater) and April 2010 (Manly/Warringah)
The Manly Daily "Profile" 20.May 09
I was wearing my RedBubble T-shirt at the workshop!! : )))

The Sydney Morning Herald "Metro" 13.Dec 08

The Daily Telegraph 5.Oct.07

The Nichigo Press (Japanese Newspaper) Nov 08

Ciao Magazine Nov 08

Please visit my web:www.midorifurze.com
Midori's Pockets full of Love gallery at Zazzle
……………………………………………………………………..