I will be Donating all proceeds from sales of my Artwork & Photography during January/February to the Queensland Flood Appeal. I'm not the richest person in the World so this is my way of helping out all those who have lost everything in the devastating floods in Queensland Australia at the moment.
For Donations of cash to the Queensland Flood Relief please click on this link
I wish all involved my best and hope your loved ones are found safely
Hugs
Michelle ♥♥♥
Featured in Art & Stories Made For Children
This is one of the cute litle cement buildings in the Town Of Lower Crackpot at Tasmazia, near Sheffield in Tasmania, Australia.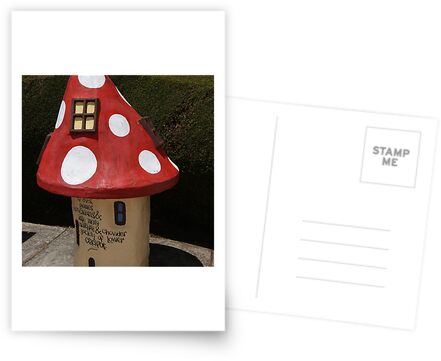 The world of Tasmazia is a crazy complex located in the wonderfully named town of Promised Land in the heart of Tasmania's beautiful Cradle Mountain and Lakes District.
Tasmazia includes 8 mazes, featuring The Great Maze, reputedly the world's largest, as well as The Village of Lower Crackpot, a whimsical model village built to 1/5th scale, The Honey Boutique, The Pancake Parlour, a Gift Shop, a Lavender Farm, and ever present views of majestic Mount Roland.
For many of us, getting lost when on holiday is something we try to avoid! From an early age, we're programmed to shudder at the thought of Dad driving faster, refusing to ask for directions, while Mum makes pitiful attempts to read a map.
However, there are actually some of us who enjoy wandering around aimlessly, barking up dead ends in a bid to find something. For these people the aptly named Tasmazia complex, in the wonderfully named Promised Land, is the stuff of dreams! Many words have been used to describe Tasmazia, including eccentric, incredible, unbelievable, ridiculous, frustrating, superb, and of course, 'a-maze-ing'.
Wow…what a perfect place to get lost…
link to website