Went out a photo shoot to Penguin with fellow redbubbler Elaine Short. The weather started out a little dreary but the rain stayed away. We ventured underneath a bridge for some shots of the stream running beneath it, without noticing the tide came in and we had to clamber up a steep rock wall. To our delight this was the scene of the jetty at the top of our steep climb_. Penguin, Tasmania, Australia. Taken as is, no editing, cropping or post production whatsoever
2/7/2010
106 views & 7 favouritings as at 5/7/2010
Featured in Out of the blue group
Featured in High Quality Images
Featured in Tuesday Afternoon
Featured in Newfangled, Nonedited Photography
Top 10 in Perfect harmonys-blue challenge
Top 10 in BBB's silouette on water Challenge
Top 10 in Photography Chalenge Group- Blue Challenge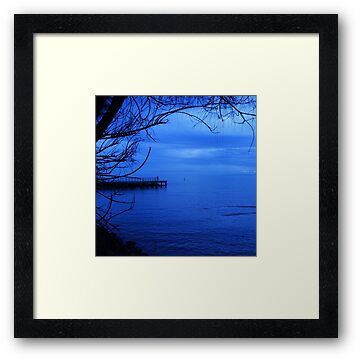 Sony A380 DSLR 18-55mm lens, Circular polariser & ND 8 filters
f22, 1/10 sec, ISO 100, 26mm, set on Tungsten
!http://ih3.redbubble.net/work.5480482.1.fp,375&...white,box20,s,ffffff.jpg!