5153 views as of March 1, 2014.
This is Sylvia Falls on the National Pass walking track in the Blue Mountains National Park, New South Wales, Australia.
This great walk starts at the Valley of the Waters & finishes at Wentworth Falls where you climb a steep cliff to the top.
In my view this is one of the best walks/climbs in the Blue Mtns.
Photographed with a Canon EOS400D, ISO 100, F22, Exposure 0.5 seconds.
Features
Postcards-Destinations, April 2010
All Water in Motion & Reflections in Water, April 2010.
Australia – from the Outback to the Coast, May 2010.
All Things In The Natural World, Sept 2010.
Australiana Challenges, Sept 2010.
Redbubble Boomers, Sept 2010.
Fibonacci Sequence, Oct 2010.
All Countries – Wetlands, Ponds, Lakes & Rivers, Oct 2010.
Glitter, Sparkle & Shine, April 2011.
Sold!, May 2011.
Islands of the World, June 2011.
Sticks & Stones & Living Things, June 2011.
Theme Thursday, Feature Friday, Aug 2011.
The World, Aug 2011.
Photographic Excellence – from the Outback to the Coast, Aug 2011.
Wild Nature Photography & Writing, Aug 2011.
The Best of Anything & Everything, Jan 2012.
Australia At Large, Jan 2013.
The Tropical Zone, May 2013.
Featured For A Challenge, May 2013.
Australia's Trails & Tracks, Feb 2014.
Challenge Win
Down Under challenge, All Parks, Dec 2009.
I sold an 8″ × 12″ print of this photo to a work colleague in March 2011.
Sold a photographic print to the lovely Trudi in May 2012.
2826 views as of Jan 1, 2013 with 51 favouritings.
Click below to buy this framed print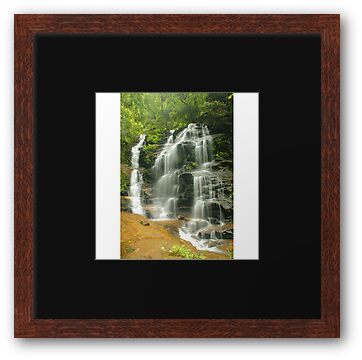 My first version of these falls

View of Wentworth Falls which is at the other end of the walk