The making of a storm chaser
So, here's the thing….I'm TERRIFIED of lightning, and would rather bury my head under a pillow in the safety of my own home than be out there chasing photos of storms….
For months now, Nick Lagos has been urging me to come chasing with him, and I've resisted…. because I am seriously noise challenged…. the head injury I suffered years ago has made me very sensitive to noise, and lightning, when it does its thang, manages to make some horrendously loud sounds!!!
Monday morning, while I'm tootling along here at the computer, with nothing much happening, and me putting off doing the taxes, I received an email from Nick saying that there were storms brewing….Nick is one of those marvellous people who thirsts for knowledge, and so he does an amazing amount of research into these events. He finds places to shoot from, works out where the wind will go, and then tests out his theories. 75% of the time he gets it bang on the money, and the other 25% of the time it'd usually keep most happy, but not Nick.
I replied, after checking the time and date, saying "eep, I have to do the books, today is BAS day, and I'm not chasing storms until the ATO (Australian Tax Office) has been paid!" Needless to say he urged me to hurry….
Strangely enough, I did hurry, and finished the data entry and calculations in record time. Then rushed out to the post office and butcher, and was back by midday. While I was out his next email said it was possibly a fizzer…so he went out do do some things….I checked around 1pm and noticed the line of storms on the BOM site showing lots of red….that's good for storm chasers, not so good for the people the storm is going to hit!
Nick rang at 1.30 and said we should go….so I organised to meet him over the other side of town, and we hightailed it up to Sandgate….the feathered edge of the clouds were just overhead, however Nick wasn't feeling too confident…
Once we were back into the car, we crossed the bay to Woody Point, turning left just after the bridge. We looked at this spot as a possible location, but decided against it because there wasn't enough expanse of sky visible, nor would there be much water, since it was low tide…
The mammatus clouds were starting to appear, though, which was quite heartening!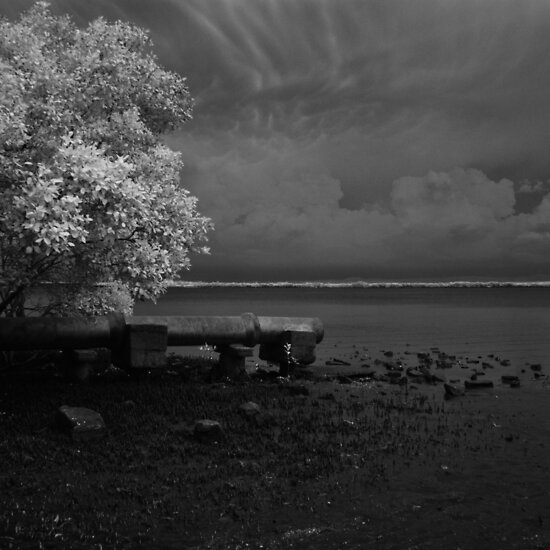 I used my little infrared camera here, because I love how mangroves show up with it…the sky was starting to show some promise.
We stopped at the boat ramp next, watching the sky develop more and more. The mammatus was also becoming a little more obvious….always a good sign for a storm chaser!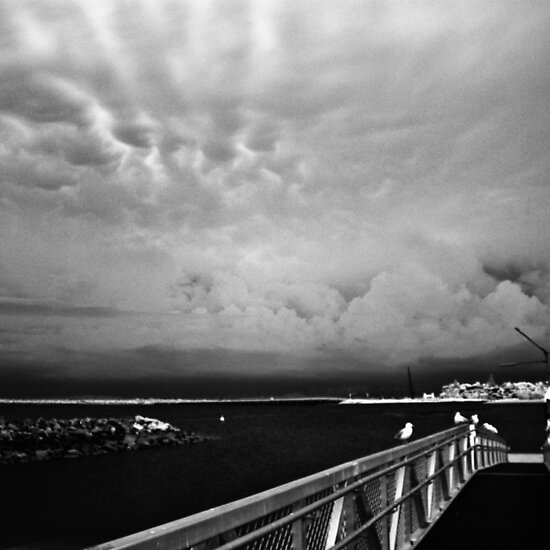 We jumped back in the car and headed for the yacht club, up near the jetty at Woody Point. Since we hadn't done any of this chasing malarky before we didn't really know what we were doing, however we were feeling pretty confident that we were in a good position to catch something interesting. Once we hopped out of the car and looked up at the clouds we decided that this was where we were going to stay. I grabbed my infrared and my 5D, tripod, polariser, Lee nd grads, and cable release.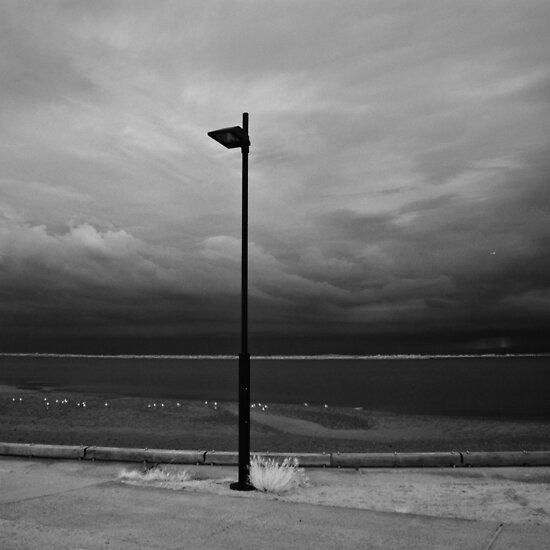 You can see in this image that the lines of the clouds were starting to appear, and there's a break through of the light onto Mt Coot-tha on the horizon. This is when I decided to go towards the jetty, and Nick took off to the right to collar the fisherman.
This is what made us realise that we might be seeing a decent cloud formation. You can see the lines forming, and the wave of the cold air hitting the hot air…this was gonna be a good one!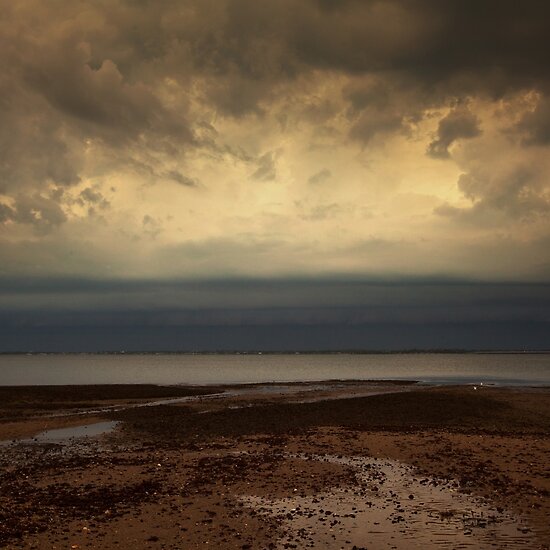 This was shot at 3.44pm, as I made my way towards the jetty….
I walked across the mudflats taking shots as I went, stopping first for a couple of pics with a red umbrella, and then when I was as close to the jetty as I dared go (furtherest from the car) I shot the pano,



and then I started working my way back. I did stop and try to shoot another pano, however I was beginning to freak out a little by this time, and I forgot to use my cable release, so some of the images were blurry, and pretty much useless….
The whole time I was on the beach the air was still, and the temperature was still quite hot……I didn't even see any lightning inside the storm while I was shooting, so it was incredibly quiet as it made its speedy way across the bay. Eventually the wind started to pick up, and within minutes the rain started to fall. I made it back to the car, found a business card for Nick to hand to the fisherman, grabbed the door so Nick could pack his gear inside, and we jumped into the car to escape the rain.
Time we arrived at Sandgate – around 2.50pm, at the Boat Ramp – 3.15pm, and the Yacht Club 3.40pm….I was back in the car by 4.10pm, and Nick another 3mins later….then we attempted to get in front of the storm again, but we'd run out of land…..so decided to treat ourselves to some fish and chips instead….
All in all a very satisfying afternoon's excursion, and I wasn't bothered by lightning at all….(this time.)
I stitched the images together with photoshop/photomerge, and I must say, I was very impressed with the result, there were only minor changes needed to match the joins, and the horizon needed to be messed with a little. Other than that, it was sit back and let the machine do the work! (and that's how I like it.)