Following on from my journal about etching, we explored collagraphs and mezzotints. I grabbed some mat board, pva glue, japanese paper, and tarlatan, and started putting together a scene…and guess what, it turned into a seascape! (How weird is that?)
The plate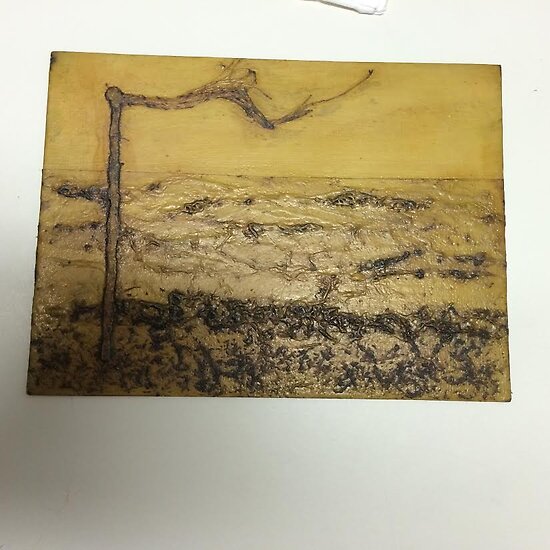 Printed with black ink, and then dolly wiped with different tones, to simulate a cold day.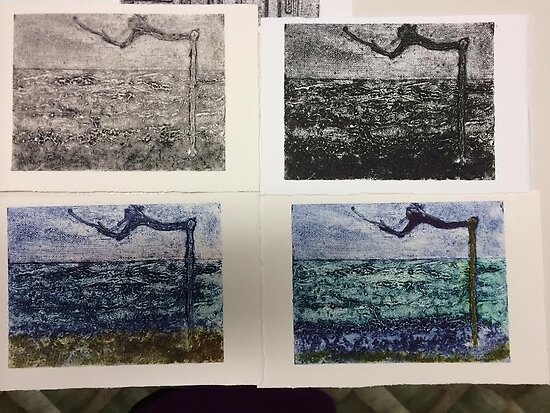 Plate and print with warmer tones.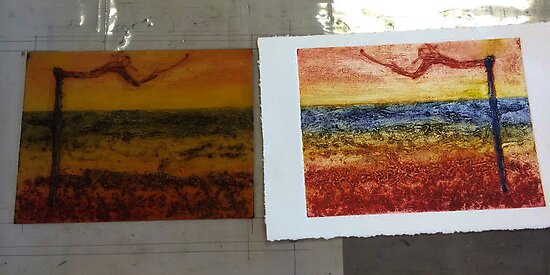 A closer look at the plate, all inked up and ready to print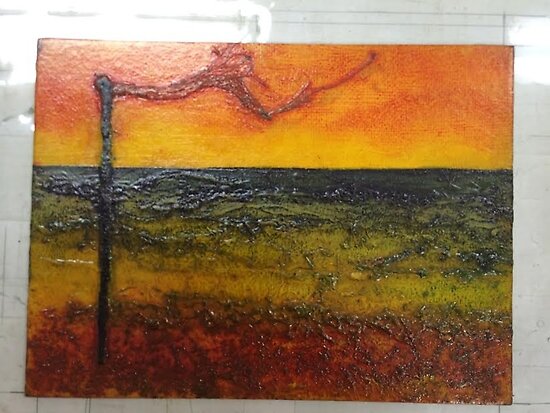 Another plate made with mat board and exacto knife. Each plate has to be coated with multiple layers of shellac before it can be inked up.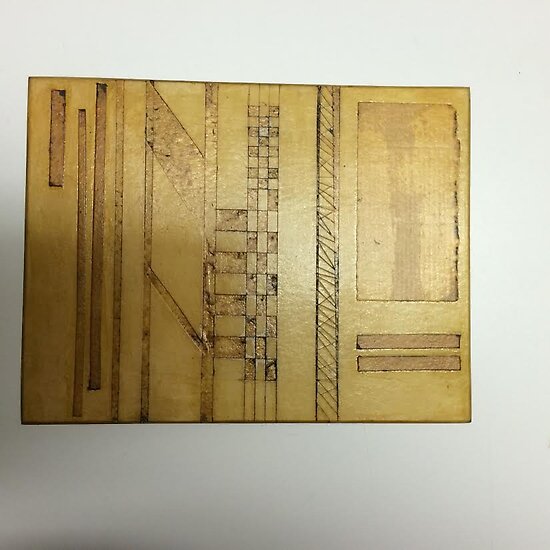 Prints in black and colour. The colour on this plate was added using stencils, cut to fit the various elements, and then the plate was printed a number of times.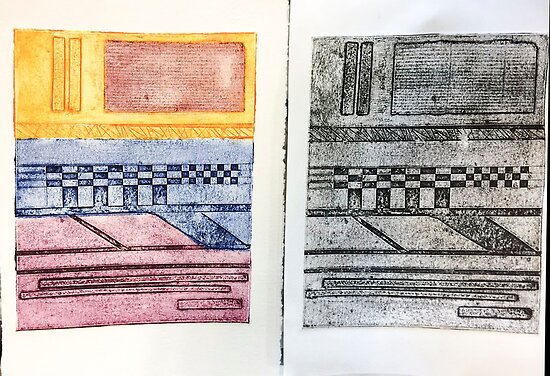 My third collagraph is mat board covered in masking tape, and then the leaf design was cut out.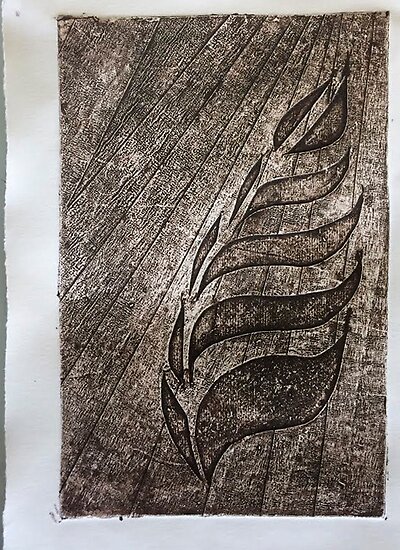 We tried different combinations of colour with a rainbow roller effect, however Wim felt that the background was too intrusive…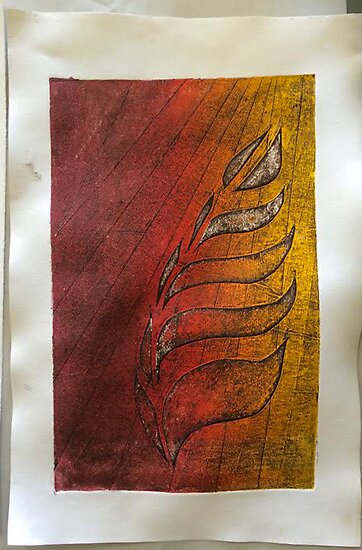 I was asked to cut the leaf out of the plate…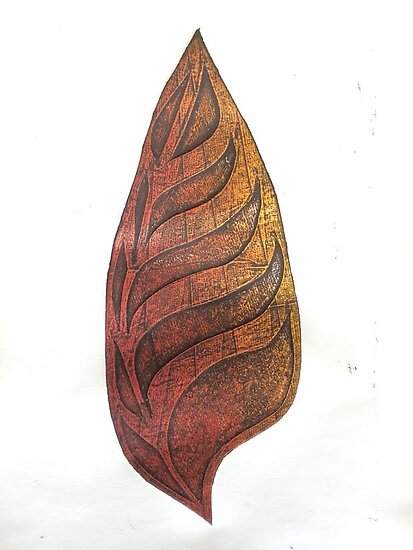 He still wasn't happy, so he then cut a rectangle of mat board, and sliced out the shape. He also used the rainbow roller on the dry board. This left interesting marks, and of course the ink soaked straight in…. The leaf cut out was rolled in a different colour, and then placed inside the rectangle. The cut out from the rectangle was placed next to, but in the opposite position to the original leaf.
Here's the layout on the press bed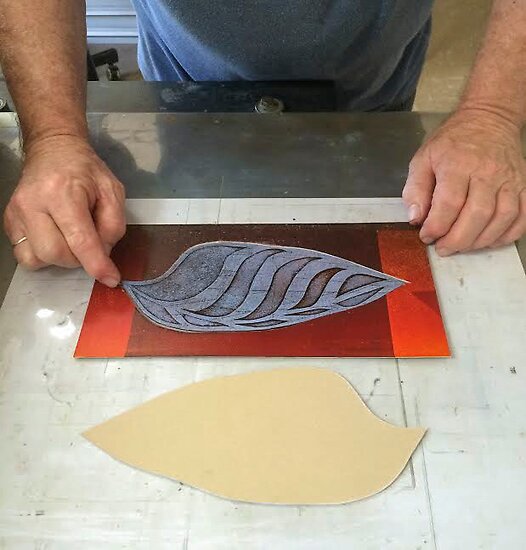 This is the resulting print…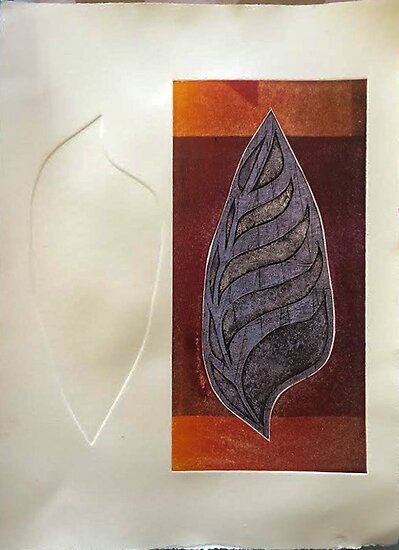 And this is the reverse of the print….embossed!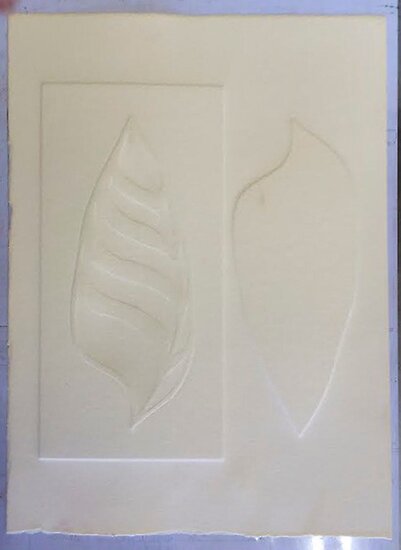 All in all, the intaglio and collagraphs were very illuminating, exhausting, and inspiring. Wim was so patient with me, and I was thoroughly enjoying the experience of printing with inks.
After etching and collagraphs, we went to mezzotint!