Just a few miles inside Yellowstone is an area that attracts the mature bulls during the winter. On a lucky Friday the 13th recently I encounter a group of five large bulls. They provided this rare group picture opportunity though not without challenge as they were hanging about half mile off the road necessitating a hike with full gear through crusty snow which at times rose to mid thigh.
Yellowstone National Park, Wyoming, USA.
---
---
This image was selected to illustrate the recently published book;
,
Jerry Johnson, editor
by Taylor Trade Publishing.
---
---
Canon EOS-1D, Mark II, Canon 500 f4L IS 1.4 Extender – 1/800@ f/16, ISO 200. Bogen 3411 w Wimberley style head. Processed in Adobe Lightroom 2.2.
---
FEATURED IN:
Antlers Racks and Other Horned Animals
Americas National Parks and Wildlife Habitat
The Wild West
World Wildlife Photography
The Addicted Photographer
Even Toed Ungulates
!We Sell Art!
#3
High Quality Images
Great Plains of North America
Montana
The Power of Photography
Love These Creatures
America the Beautiful
Amazing Wildlife Mammals
---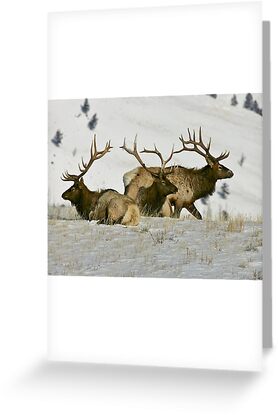 ---
.