A cool breeze refreshes the crowds on a warm summers evening along the Boston Harbor. A young couple finds it cozy to embrace on a stainless steel sculpture facing the incoming ferries.
Prices reduced for the season! All sizes-formats!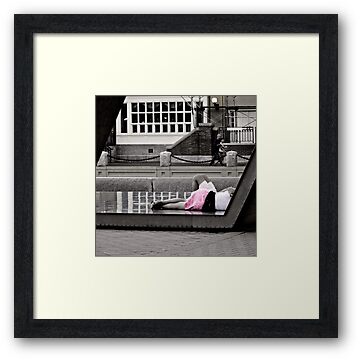 JPM 2010.08.06
Leica V Lux 1
Aperature 2
Location: Along Atlantic Avenue, Boston, MA, US
About this sculpture: "Untitled" by David von Schlegell
India Wharf, built in 1807 by one of Boston's most famous architects, Charles Bullfinch, was once the departure point for ships headed to India and the Far East. Today, the wharf is gone, and the HarborWalk winds past the Harbor Towers luxury high-rise condominium complex and a A marker is located next to the sculpture which describes the artist and his work. The Harbor Towers, designed by architecture firm of Pei Cobb Freed and Associates, were the first high-rise residential buildings on Boston's waterfront, and at 40 stories are the city's tallest residential towers. In 2002, a reconstructed HarborWalk opened around Harbor Towers, providing for the first time in a decade complete public access around the complex as well as linkages to the HarborWalk at Rowes Wharf and Long Wharf.
Location Harbor Towers on India Row, Boston, MA, US ( a short walk from South Station ).