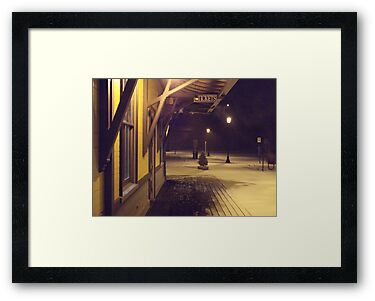 The Kingston RR Station was built at this location, now known as West Kingston, Rhode Island, in 1875 and has always remained a functioning wayside railroad station to this day. It serves over one hundred and sixty thousand passengers a year currently. This is a number far beyond those of its' humble beginnings.
Featured in the following groups
-Out of the Past' Group 2009.03.02
-New England' Group 2009.04.12
-The Best of RedBubble' Group 2011.01.06
-Moody and Evocative' Group 2011.01.07
-Old Things' Group 2011.01.07
Jack McCabe © 2009.03.01
Leica V Lux 1
Only the sound of wind and the sparkle of the snowflakes prevail. No trains arriving, no buses at the stop, no taxis nor passengers awaiting.
A storm is developing, snow beginning to blanket the lonely streets, paths, and walkways with a sheet of soft luminous white.