Photograph Jack McCabe 2008.08.13 ©
Leica V LUX 1
Taken from the Ocean State fast ferry Newport to Providence. USA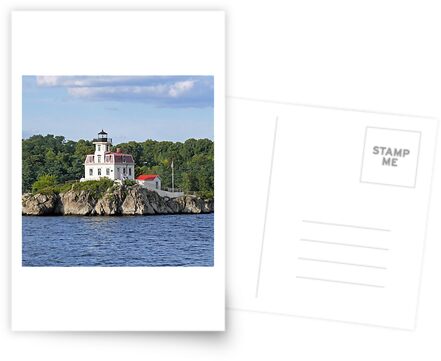 Great postcards or notepaper, 10% off!
About:
*featured 10.31.10 in New England Coastal Life
1871 (Albert Dow, designer). Reactivated (inactive 1974-2006); focal plane 54 ft (16.5 m); continuous red light). 40 ft (12 m) octagonal cylindrical wood tower with lantern and gallery, mounted on a 2-story Empire-style wood keeper's house. The 4º Fresnel lens used here from 1939 to 1974 is on display at the Custom House Maritime Museum in Newburyport, Massachusetts. Fog signal building demolished, but the oil house survives. Building painted a cream color, lantern and gallery black; red roof. Maureen Reilly's photo is at right, Anderson has a good page with several photos, and Google has a good satellite view. Sibling of Colchester Reef Light, VT. In January 2005, Exxon Mobil leased the lighthouse (at no cost) to the American Lighthouse Foundation. ALF organized the Friends of Pomham Rocks Lighthouse to work for restoration and reactivation of the lighthouse. Restoration work by the Abcore Restoration Company was nearly complete by the end of 2005, and ceremonies relighting the lighthouse were held July 30, 2006. Jeremy D'Entremont has a Lighthouse Digest article on the restoration. In 2007, volunteers refurbished the retaining wall that protects the lighthouse. Located just off the east shore of the river off the foot of Willett Avenue in Riverside. Good views from the East Bay Bike Path along the river. Accessible only by boat. Site and tower closed. Owner: Exxon Mobil Corporation. Site manager: Friends of Pomham Rocks Lighthouse. ARLHS USA-643; Admiralty J0602; USCG 1-18555.