Fabulous Sydney Bubblemeet :)
On Saturday I went to my first Sydney bubble meet, it's taken more than two years since I joined but it was well worth the wait. Organised by the impeccably turned out Adriana (honestly, she'd look good in a tablecloth with those shoes ;) and ostensibly to visit the Annie Leibovitz exhibition at the Museum of Contemporary art. It was a grey, rainy day and I took a ferry from Manly to Circular Quay to meet the others. I can tell you I was pretty excited to be going and the rain had no hope of dampening my enthusiasm. I'd met Mel and Adriana before and both have become good friends, but although I'd not met the others and many had not met each other either, it felt like a gathering of old friends. We quickly got into our tour of the exhibition which Adriana had pre-booked (with the added bonus that we got in cheaper than if we'd bought tickets individually)
Nicole talked us through some aspects of the artist's life and the background to various selected works, and encouraged discussion on each piece. I gained so much more from seeing it in the company of fellow bubblers than I could possibly have done on my own. As you can imagine, there was much knowledge and there were many opinions and a lot of good humour. Some of the work I really liked, some was thought provoking and some did nothing for me, but the whole Exhibition was enlightening and opened my eyes further, always a good thing. Ademac's knowledge of various aspects was particularly insightful too. I really enjoyed the company of everyone who attended and thanks to Adriana for organising it, what a fabulous day we had. Here's a bit of rough verse about our day and some photos to illustrate it.
On Saturday an outing had been planned to go and see
Annie's Exhibition in the gallery near The Quay
I jumped aboard a ferry and I went to Sydney Town
To see the fellow bubblers and the shots of some renown
Adriana stood there (like a glowing glamour will)
And so too Tatiana with her Squire, Peter Hill
Equine Ademac was there from ear to ear his grin
Accompanied by the lovely lady Texture of the Sin
From high up in the mountains Ian Moses came alone
And all the way from Queensland the beaming Mel had flown
Her daughter Cara joined us and Maria Moro too
And we never saw a Nikon in this motley Bubble crew
Our leader, Adriana, had made a special booking
Nic' to take us round the joint instead of us just looking
We talked like in the forums but without a word of spite
We differed in opinions but we never had a fight
Some thought Annie's pictures sent a message that would reach ya
But half of them would never get a nice RedBubble feature
A few were quite familiar and some of them rang bells
but none as sharp as Peter's shots and none as blurred as Mel's ;)
Some portraits were quite striking like of Bush before the war
And Clinton in his office (but no Monica we saw)
And Scarlet had her foot cut off which made our whole group wince
But TotS is a fast learner and she's done the same thing since
(And Adriana didn't bring her wombat to the meet
Cause Scruffy's not impressed by pics of people with no feet)
We finished up our tour with the oddest shot yet seen
The Lord Nelson-like portrait Annie did of Liz the Queen
We wandered round a little more this happy bubble bunch
Then took off to Rossini's at the Quay to get some lunch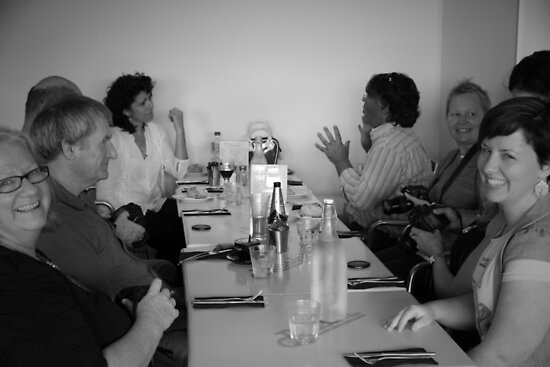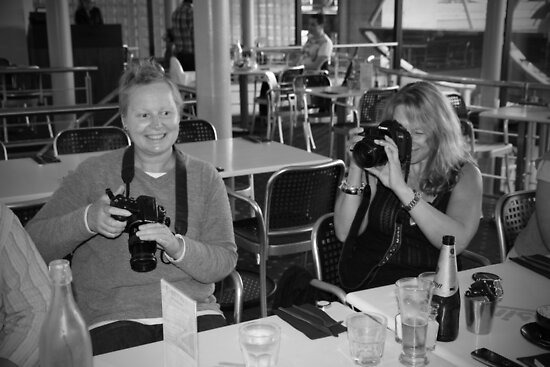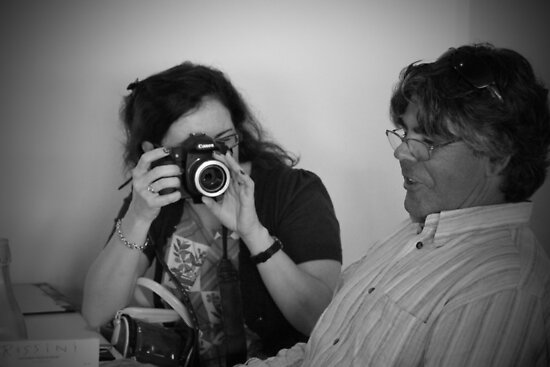 We sat around a table and we took some happy snaps
And even as we ate we had our cameras on our laps
I chatted with Maria (she has European charms)
And liked the way that she and Adriana spoke (with arms ;)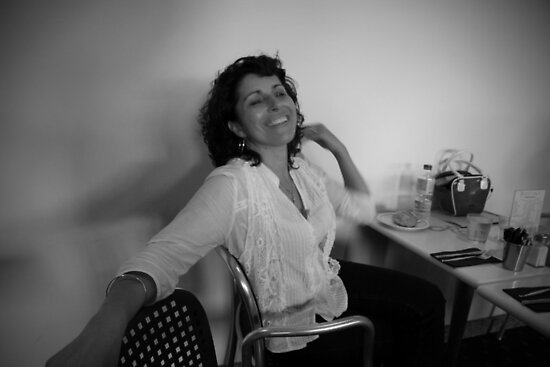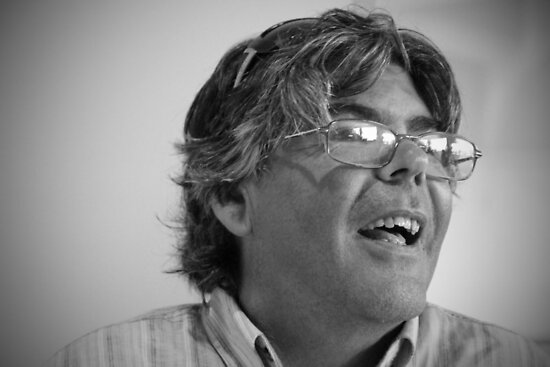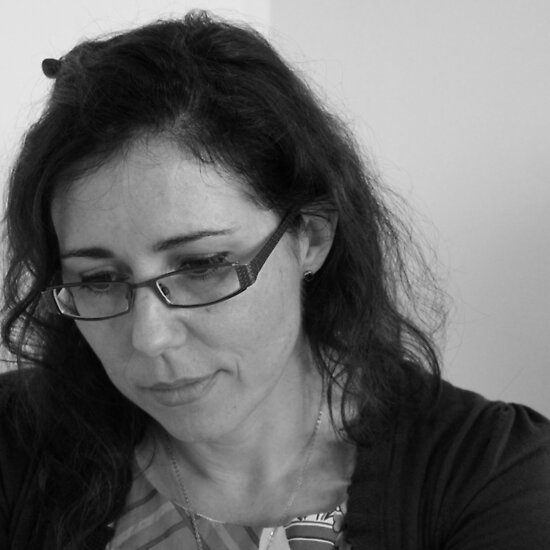 I tried to get a shot of Mel but then without a word
I took the shot but as I did she flipped me back a bird
I s'pose it could have been much worse I coulda been abused
And Ian sat there grinning looking mildly amused.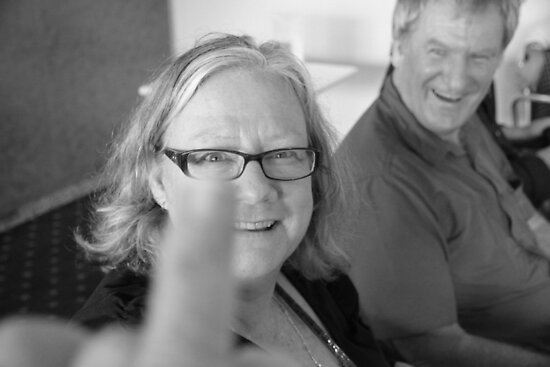 I still don't know how Peter looks it could have left me miffed
Cause all I ever saw of him was Canon tilt and shift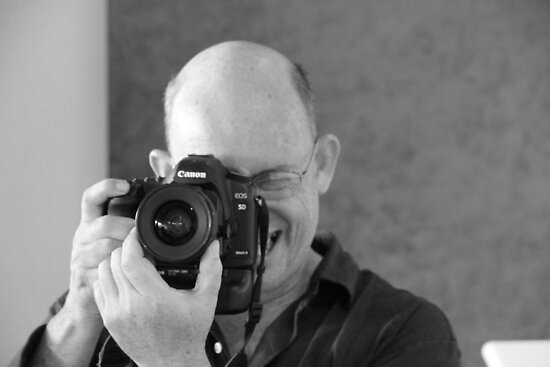 After we had eaten we went round "The Rocks" a walking
Photographing everything, discussing stuff, and talking
Tatiana always wandered off to find the different shots
The atmosphere was special (as was finally meeting TotS)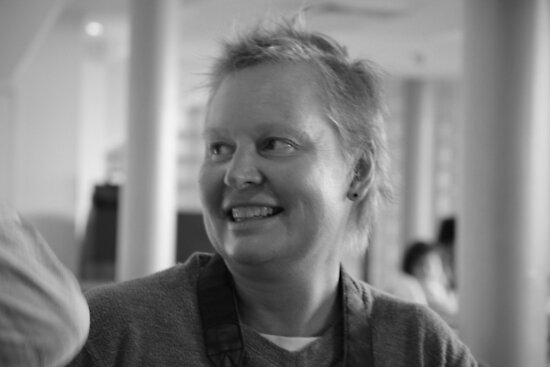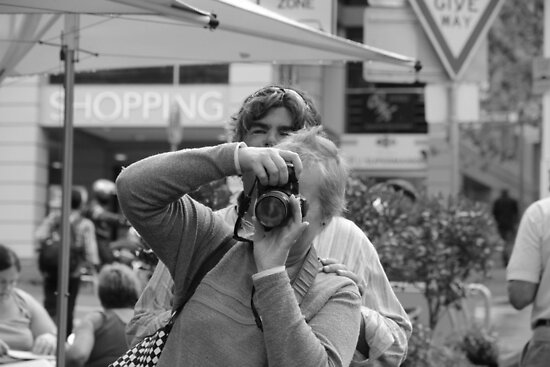 And I tried to shoot Tatiana but here's the funny thing
Exposure wound up dodgy from reflections off the bling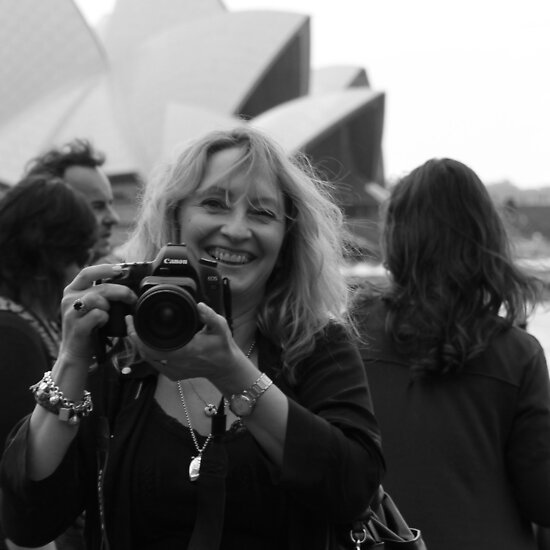 When Mel and Cara hammed it up and showed us what they've got
Ade stood agog, akimbo too, while Peter missed the shot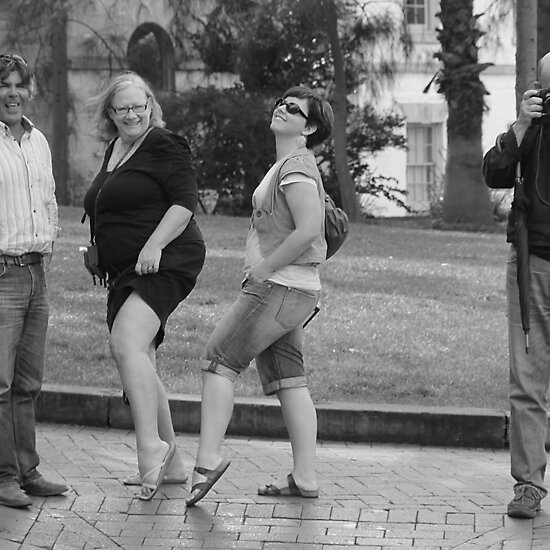 As all good things come to an end it started getting late
I didn't want to leave because the company was great
And on the ferry home I thought "now that was just a buzz"
It left me feeling happy as a bubble meeting does…