Horse and buggy on a sunny Spring morning near the town of Bird In Hand, PA.
The legend of the naming of Bird-in-Hand concerns the time when the Old Philadelphia Pike was surveyed between Lancaster and Philadelphia. According to legend two road surveyors discussed whether they should stay at their present location or go on to the town of Lancaster. One of them supposedly said, "A bird in the hand is worth two in the bush," which means it is preferable to have a small but certain advantage than the mere potential of a greater one; and so they stayed. (Source: Wikipedia)
As soon as I got out of my car I saw a horse and buggy coming my way. I barely had enough time to get my camera settings changed. It is not often I am able to the photo I want in just a minute or two.
(Canon 7D, ISO 250, F5, 1/400 sec, 24.00 mm, RAW, edited with Photoshop Elements 9 – Photomerge Exposure)
Date: 05/06/2011
Shown as Framed Print: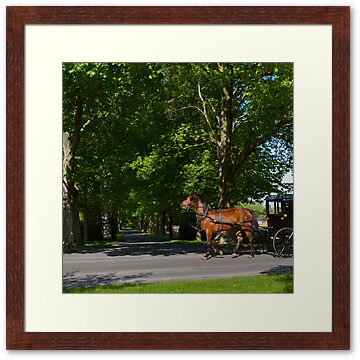 Check out Horse and Buggy – Bird in Hand to see a similar scene in Winter.