A beautiful draft horse standing in a green pasture with the historic Hans Herr House in the background.
Hans Herr was born in Zurich, Switzerland and was a bishop in the Mennonite faith. He fled Switzerland due to religious persecution and eventually settled in central Pennsylvania.
The Hans Herr House was built by his son Christian Herr in 1719. The house is now a museum and is located in Lancaster County near Willow Street, PA.
(Canon Rebel – XT, ISO 100, F8, 1/15 sec. 51.00 mm, edited in Photoshop Elements)
Date: 05/03/2009
1,034 views as of 09/10/2012
Published in the Pennsylvania Magazine March/April 2011.
Featured in:
Country Bumpkin – Mar 2011
Welcome Pennsylvania – Mar 2011
Shown as Framed Print: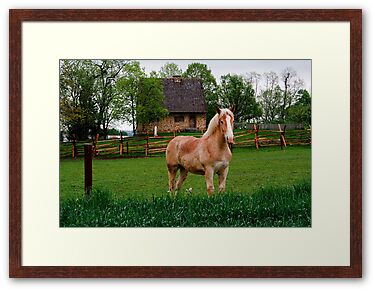 Also check out Hans Herr House in Winter