Horse and buggy riding through the snow on a cold wintery morning near the town of Bird In Hand, PA.
The legend of the naming of Bird-in-Hand concerns the time when the Old Philadelphia Pike was surveyed between Lancaster and Philadelphia. According to legend two road surveyors discussed whether they should stay at their present location or go on to the town of Lancaster. One of them supposedly said, "A bird in the hand is worth two in the bush," which means it is preferable to have a small but certain advantage than the mere potential of a greater one; and so they stayed. (Source: Wikipedia)
A winter storm deposited 6 inches of snow on the area, the night before, and blanketed the massive trees lining the driveway of the large horse farm in the background.
(Canon 7D, ISO 400, F8, 1/250 sec, 24.00 mm, edited with Photoshop Elements 9)
Date: 01/12/2011
243 views as of 05/11/2011
Featured In:
Along The Rural Road – Feb 2011
Communities – Feb 2011
WINTER 2011 in the North-East USA – Feb 2011
Horses at Work – Geared up.. – Feb 2011
FEATURED ONLY – Mar 2011
Shown as Framed Print: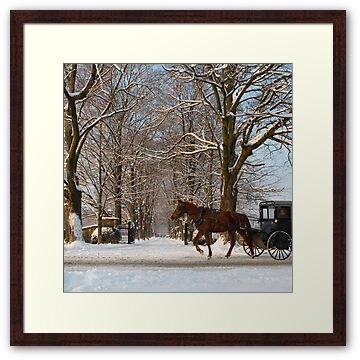 Check out Horse and Buggy on a Spring Morning to see a similar scene in Spring.