Horse and buggy on a cold wintery morning near Bird In Hand, PA.
The back of the buggy appears to be loaded with cooking supplies. The Amish are well known for their cooking and hearty meals.
A winter storm deposited 6 inches of snow on the area, the night before, and blanketed the massive trees lining the driveway of a large farm.
(Canon 7D, ISO 400, F8, 1/250 sec, 24 mm, edited with Photoshop Elements 9)
Date: 01/12/2011
Featured in:
Rural Around The Globe – Jan 2011
Along The Rural Road – Jan 2011
Horse and Rider – Jan 2011
HIGH QUALITY IMAGES – Jan 2011
Horses at Work – Geared up – Mar 2011
All American Seasons – July 2011
101 views as of 02/12/2011
Shown as Framed Print: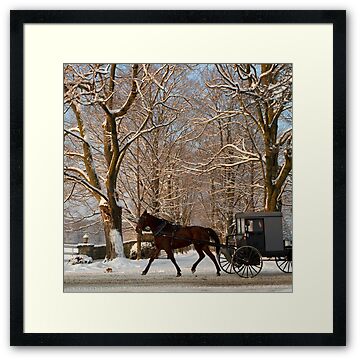 Shown as Laminated Print: