Life through a lens
"A technically perfect photograph can be the world's most boring picture."
"If you want to be a better photographer, stand in front of more interesting stuff."
Some of my work, and what other Redbubble members have said about it…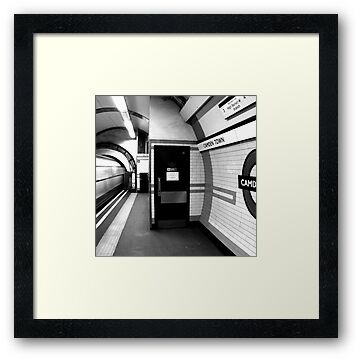 "This is a very nicely executed image.
Firstly, the composition has very clearly been consciously framed to place an emphasis on the converging lines down the platform, there is a beautiful disparity between the crisp, looong dof all the way to the vanishing point, and the perfectly times capture of the beautiful motion blur of the train going past. This must have been a very purposefully set-up shot, perfectly timed to co-incide with the express train going past.Interesting too, what time of day or night this might have been taken to manage to capture a corner of the platform clear of people? I'm not a Londoner, but having been there once, I can't imagine the subways are this empty too often.
For me, the place this image has been shot from appears to have been chosen with great care. The crisp black and white lines, together with the motion blur of the train disappear perfectly to a vanishing point on a pleasing thirds point, but the possible banality of such compositional perfection has been beautifully broken by the door…
Even more interestingly, if I actually measure the image, the door appears to be almost exactly placed in the centre. A supposed compositional no-no. But, in this case, the beautiful disparity between the stationary lines of the station wall conflict so strongly with the extremely fast motion indicated by the motion blur of the express on the opposite side of the frame, this compositional tool of central placement does not, to the eye, appear to even be 'central'
Masterfully spotted – and captured, and, most definitely a perfect image for black and white. The complexity of the composition could be muddied by the added distraction of colour"
DragonFlyer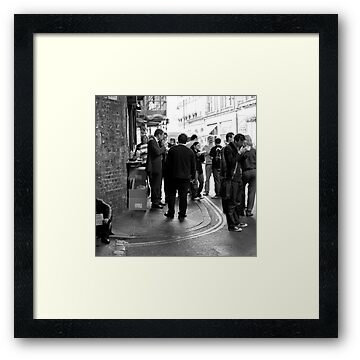 "I kept looking at this image, and suddenly this feeling of absolute helplessness washed over me … wanting to look, not wanting to see, wanting the world to be different and at the same time knowing that's just the way it is. You are very brave to capture this moment, and to draw attention to a topic like this."
Barbara Glatzader
"Hmmm ok. A millstone yes, but there are millstones and there are millstones. This millstone should be in "how to" books on photography for the gut wrenching emotional level to which this image grabs and shakes you.
Very, very well done"
Simon Whittaker
"When I first viewed this image Mark, it made me incredibly angry how society has become accustomed to shutting their eyes to the man (in this instance) who just seems to blend into the corner of the shot un-noticed, like he 'belongs there'. Took me a while to comment, because, quite honestly I could write an essay about what this makes me feel..
That said, This is an astonishingly frank image you have taken, which I'm sure must evoke emotion in all who see it. That is what it should do! Remind us all that..we could be that man…..
Finally, Absolute congratulations on being featured on the NYT economy section well done,"
Alixzandra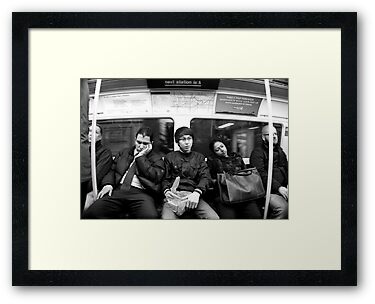 "Once again, your work speaks volumes. It delves so deeply into raw human nature, the connections between the subjects, the viewer to your captures and the viewer to the inner workings of your brilliant, creative mind. Bravo!!!"
Ainsley Kellar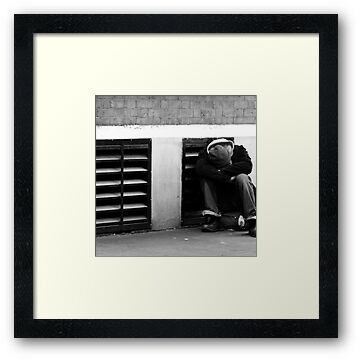 "Excellent shot, Mark! You have a great talent for capturing these scenes. You see it, which is more than most, and you feel it and put it all into an image that speaks to those who see it. Well done, my friend!"
Appel

"This is so well done and so perfectly said! I don't go to the city too often… it's quite a distance.. but every time I've been there, I see people sleeping on the streets, in the alleys, on benches, in cardboard boxes… fighting for what very very little they have to survive. Of course it's not just in the cities, but seems more evident, when there's no place else they can go… we certainly are all human and cut from the same cloth!! This image makes quite a statement! Outstanding!"
Maxy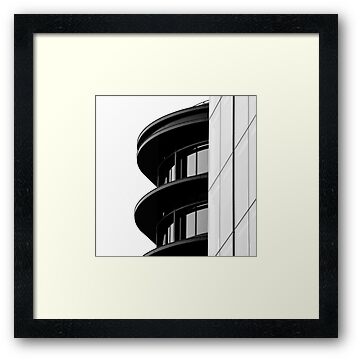 "Outstanding shot Mark"
H M Bascom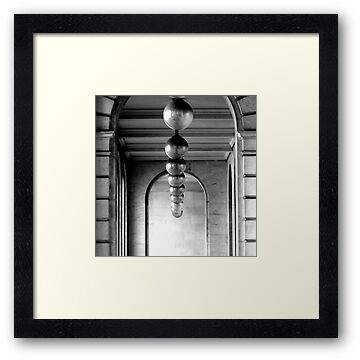 "This is really cool mark.. I love the way that you capture that marvellous symmetry in most of your shots and the toning is always brilliant! Top work"
Ross Spencer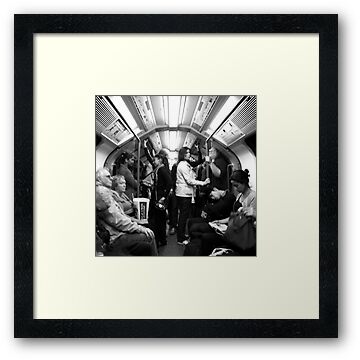 "This is such a great shot Mark, beautifully framed, I love searching all the faces in the crowd seeing how each person tries to avoid one another on the crowded tube, I find it so hard to take these shots, one for fear of someone not taking kindly to me taking their picture and of course big brother not letting you (like Rx mentioned), great work mate and a great addition to the TUNNEL VISION group"
blueeyjus

© Mark Tull All rights reserved. The images on these pages may not be reproduced, copied, or used in any way without the express permission of Mark Tull.

However, if you would like to collaborate, please feel free to drop me a Bmail me.