This photo exhibited at The Arts on Doyle Gallery at Murray Bridge as part of the 2011 SALA Festival
Featured in the HDR Photography group April 2011.
Featured in the Best of RedBubble group April 2011.
Featured in the River Murray group March 2011.
As at 29 July 2011 there have been 330 views of this photo. Uploaded 8 March 2011.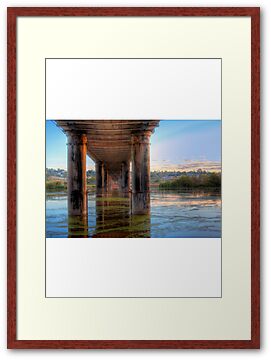 I gave this image the title it has because when I first looked at it, it looked like some sort of dreamscape with an ancient temple in it. However, the truth be it is a shot taken from underneath the (famous or infamous) motor bridge crossing the Murray River at Murray Bridge.
The shot was primarily taken as is with a very moderate HDR effect, no other processing or textured layers have been added.
The high dynamic range was achieved merging 3 exposures set at an AEB 3 and merged using Photomatix Pro.