All profits from RB sales of this photograph and others in the Amur Leopard Collection will be donated to ALTA for their work in Amur Leopard Conservation.
The Amur or Far Eastern Leopard (Panthera pardus orientalis) is a subspecies of leopard and ranks among the world's most endangered cats, with only 25–40 individuals surviving in the easternmost regions of Russia. In the 19th century, the range of the Amur leopard extended from south-eastern Russia, through Northeast China, and into the Korean peninsula. But after decades of habitat destruction, poaching, and hunting of its prey, the Amur leopard has been restricted to a tiny fragment of its former range.
Amur Leopards, photograph taken at the Cotswold Wildlife Park, UK
Camera used: Canon EOS 40D
Lens used: Canon EF 100-400mm f4.5-5.6L IS USM
Shooting Information:
Shot in- RAW
Exposure – Manual
Shutter Speed – 1/250
Aperture Value – F5.6
Metering – Spot
ISO – 400
Focal Length – 275mm
Software Used:
Canon Digital Photo Professional
Adobe Photoshop
FEATURED IN PAWS N CLAWS
FEATURED IN HIGH QUALITY IMAGES
FEATURED IN ANIMALS…CAPTIONS & CONFESSIONS
FEATURED IN ART & COLLECTABLES SALES
FEATURED IN ALL ANIMALS GREAT AND SMALL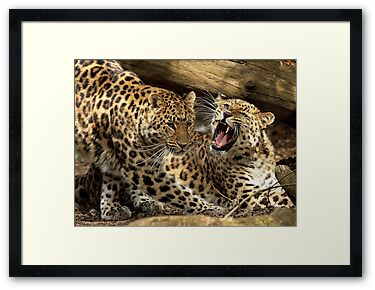 Book Information:


Preview Book Zoo Photography – Getting Results
© COPYRIGHT NOTICE
All rights of my work and images are reserved to Mark Hughes Photography and may NOT be reproduced, copied, edited, published, transmitted or uploaded in any way without my written permission, thank you.