Symbols on the wall - Accidental posters
Symbols on the wall – main navigation:

Symbols on the wall


Symbols on the wall – Accidental posters


Symbols on the wall – Things on walls


Symbols on the wall – Collecting symbols


Symbols on the wall – Conclusion and background
---
The Magical mystery tour starts in Sana'a, the capital of Yemen. We arrived in the morning, had a quick tour through the neighborhood to orient ourselves, change money and have lunch, then in the afternoon walked through the old(er) center and the souq, just to get an idea of what would be awaiting us at the end of the trip. I had two cameras, an analog SLR (Canon EOS 5), and a compact digital (Fuji Finepix F30), intended mainly as a "backup" and for shooting in circumstances where I could not do much with my ISO 100 film In practice I found I used the digital camera also for "note taking" (when I just wanted to record things without necessarily wasting my expensive film on it) and for photographing people (because they were always so pleased to see themselves back). My shot of the Sana'a house was definitely "note taking" – I just wanted to remember this one to come back to and photograph it maybe in better light.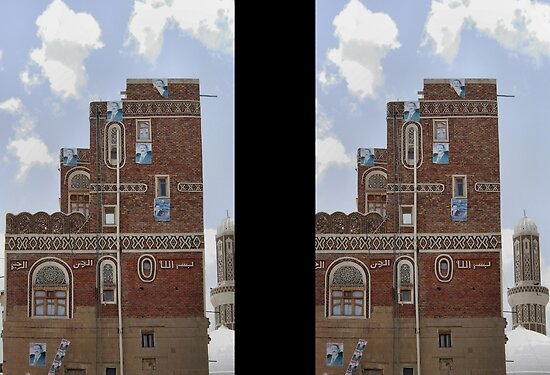 I only noticed the posters on the wall after I'd taken the shot. Then I started noticing they were all over the city! It was April 2007, and there had been elections in September 2006: clearly these posters were the remnants of the political struggles that had taken place.
The next morning we left for Marib, and then traveled through the desert and wadis of Hadramawt to end up in Al Mukalla, on the south coast. If there were any posters along the way, I don't remember them, and while in my analog shots there may have been some "accidental posters" (I have not scanned them yet), I certainly wasn't going to "waste" my film on them! In Al Mukalla it was late afternoon before I could set out to walk around the old city, so I took only my digital compact with me. Yes, there were posters here, and I was starting to notice them again, because they kept cropping up in my shots! And I could kick myself now – one of those posters was one of a woman: and only blurry, on the edge of the image. Women do play a role in Yemeni politics, but it's still a very small one – I do wish I'd noticed that poster enough to take a picture of it, or one of the others I have seen: I have seen (a few) more, but I only have this single shot.
It was also in Al Mukalla that I found this mural – possibly not intended as "symbolic" by the painter, but symbolic nonetheless for one of the few ways women can have some independence here: by making handicrafts and gaining a small income for themselves by selling their products.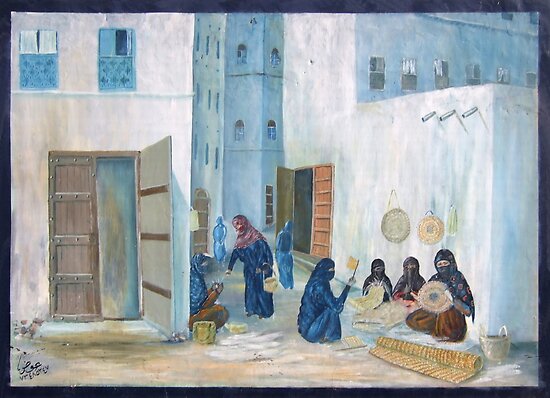 When I showed a few teenage girls the pictures I'd taken so far I got a really enthousiastic reaction on this – their English was not up to explaining why, but it was clear this painting does have meaning for them. And that's why it is part of this story.
From Al Mukalla we traveled more or less along the south coast, not seeing enough posters to make me more aware of them. If I have any shots of posters and symbols, it must be more accidentals in my analog photographs…
Then we arrived in Ibb, in the mountains south of Sana'a, and things changed completely. Read about that in the next chapter – after having a look at the photos in this chapter, of course!
---
© 2010 Marjolein Katsma – photos © 2007 Marjolein Katsma