A magical mystery tour of Yemen's walls (and things attached to walls)
All embedded photos can be clicked to go to the photo page. Table of contents at the end of this page.
Background
In 2007 I made an almost month-long trip through Yemen, a country where I'd never been before, and for me only the second country in the Arab world I've visited (the first was Syria). It had long been a wish to visit Yemen and I was looking forward to getting to know some of its culture and seeing its magnificent and unique architecture. I prepared myself for the trip by reading online and paper travel guides, and following Yemen news, especially via the online versions of its two English-language newspapers. It was a truly wonderful trip, not just because of the incredible scenery and architecture, but mostly for the warm hospitality of the Yemenis: they are a proud people, proud of their language, culture and heritage; if you come and behave with respect, you will be warmly welcomed; if you don't, you will be tolerated (politely).
Yet this is a country with enormous problems. It is one of the poorest countries in the world, and unlike most countries on the Arab peninsula it has barely enough oil for its own use (if it were to use what it really needs), and only a little natural gas which it is trying to export. It has a shortage of schools and educational materials, and where there are schools, they are too small, so that boys and girls take turns in using the facilities. Too many girls still don't get a decent amount of schooling, while many of their mothers and grandmothers cannot read – literacy percentages are low, and they are much lower for women than for men. It is one of the results and one of the causes of the fact that most women have a difficult life, and find it even harder to lead an independent life. Yet there are shining examples and role models, too: there are business women (one of the two English-language newspapers in Yemen, the Yemen Times, highly respected internationally for its independent and critical views, is run by a woman); women do follow university studies; and there are women in parliament and female ministers (currently one). Yemen does have its own brand of democracy and unlike many Arab countries does regularly organize elections, although it's a very different brand of democracy than what we know in the west. At the same time, women still do not have equal rights to men in Yemen, although the situation seems to be – very gradually – improving. (For a bit more background on democracy in Yemen and the situation of women, see the links in the last chapter of this story). So, apart from my interest in landscape, culture and architecture, this formed part of the background I was aware of when I embarked on my trip.
Walls
I always photograph walls. There are a few themes in my photography that are continuous, and form a red thread wherever I am. One of those themes is walls, doors and windows – and with the marvelous architecture in Yemen there was an overdose of material! A feast for the eyes, wherever you look. And look I did – and looked, and looked…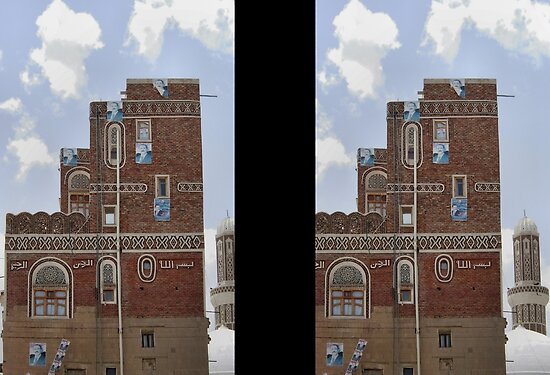 I immediately started noticing things on those walls – only half-consciously at first, but gradually I became more aware of what I was seeing. The background sketched above, of which I was aware, made me gradually see what was right before my eyes. And somewhere during that process, I moved from having things in my frames by accident to consciously recording them, and later even looking out for them and collecting: I was no longer just taking shots in order to make "beautiful" photographs of Yemeni architecture and Yemeni walls, I started documenting the things I was noticing. And yet, when I went through my photos from this trip during the last few days, I found quite a few more of those "accidental" shots – either my attention was simply on something else when taking the shot, or I had become so accustomed to what at first amazed me, that I was no longer consciously noticing it.
Magical mystery tour
So, this became a bit of photojournalism – and a red thread through my trip through Yemen. Fair warning: these photographs are not all superb photographs (or all are not superb photographs); if you view each on their own merits, I am sure some will disappoint photographically: some are a bit blurry, some may seem boring – they are here because they are an integral part of the story, selected for their content; there is something interesting to see in each.
l'll do my best to point out what the interesting bits are, sometimes with details to highlight them – things that may not be recognized by you, the viewer, for what they actually are unless (until) you know what you are seeing.
Please follow me on a magical mystery tour of Yemen's walls (and some things attached to walls) from one single point of view – along the way you'll get to see quite a few things that are typical for Yemen, even though it's a highly selective choice: in this series there are (almost) none of the wonderful people of Yemen, unless they are accidental extras; there are none of the lovely sounds, smells and tastes of Yemeni culture, music, the spices and food; there are none of the magnificent landscapes, unless a bit of that landscape plays very specific role in this story. And yet, taken together, these photos will show you a slice of what is unmistakeably Yemen. I'll take you by the hand and lead you on my path of discovery.
And yet, in the end, the mystery remains. While I did know, in the end, what I was seeing, I still do not know what it actually means for Yemenis, and to what extent and and which way their daily life and their future is influenced by it… And it doesn't help that I do not read Arabic at all (any help in that department would be highly appreciated – see the last chapter!).
Three phases
Aside from this introduction, the meat of my "documentary" consists of three main phases of discovery (corresponding to what you may call "chapters" here, each consisting of text and a series of photos), followed by a conclusion and links to further background reading if you're so inclined. Below you'll find the main navigation to these chapters, while on the side you'll find the "table of contents" of both writings and photographs of this whole documentary.
I suggest it's best to use this document as your launching pad, and return to it (using your browser's Back button) to continue the journey; there are also links in each photo description to preceding and following photos, so that's another way to travel along with me.
---

Symbols on the wall


Symbols on the wall – Accidental posters


Symbols on the wall – Things on walls


Symbols on the wall – Collecting symbols


Symbols on the wall – Conclusion and background
---
---
© 2010 Marjolein Katsma – photos © 2007 Marjolein Katsma