Photo © 2006 Marjolein Katsma | Text © 2012 Marjolein Katsma
---
Tags for this photograph:
beijing, china, hutong, new buildings, urbanization, renewal, urban renewal, olympics, trees, protected, cherished, qian men xi he yan jie, qianmen west heiyan street, xi da mo chang jie, west damochang street, zhenyang gate, cage, netting, fence, fence panels, panels, green military area
---
This is part of the second series of Beijing 2006 – The hutong photos; see my journal posts Beijing 2006 – The hutong and Beijing 2006: Out with the old, in with the new for the background of this series.
See the location on a satellite map (Google's street map doesn't register with the satellite view!)
Already in 2005 we had seen how the buildings at the northern end of the hutong area South of the Tien'anmen Square area (Directly South of Qian men West Heiyan Street and its continuation west of the Qianmen gate building, West Damochang Street, and a small strip just north of these streets) were decrepit, crumbling, eternally leaking, and essentially beyond repair. Since this area is so close to Tien'anmen Square and the start of the Qianmen Street shopping area, and Beijing wanted to spruce up its city for the upcoming 2008 Olympics it's no wonder then that this was the trigger to clear all of those crumbling buildings.
One result of that was that one of my favorite restaurants (on W. Damochang Street) had disappeared in what now looked like a huge building pit. Disappointing, but a year earlier it had been hard to get in and out of without getting wet: water was constantly coming down along the facade whenever it had rained a bit… so not really surprising.
But this sight did at first surprise me: this tree, not old but certainly already mature, protected in a big cage from the demolition activities going on around it. Just like in an earlier wave of urban renewal they were careful to preserve what was precious – and in a city struggling to combat pollution and bad air, trees are precious.
We're standing on Qianmen West Heiyan Street here, looking North-East: right through the cage we see the southern building of Zhenyang Gate, and to the left we see just a bit of the northern Zhenyang Gate building.
The green fence panels (quite dusty from the demolition going on) are interesting, too – on the left there's a bit of text (which may not be complete) but which I transcribe into pinyin as xuān wŭ yuánlín which according to my little dictionary app seems to mean something like 'declared military gardens' (or grounds). Well, I do not think this is a military area… I rather think that with all the demolition and building going on there was a shortage of fencing panels and they just borrowed some from the military. :)
UPDATE
So much for that theory: According to someone who actually speaks Chinese, 'Xuan' is 'just a name' so it means 'Xuan Garden'…
Camera: Fuji Finepix F30'

Suggested product (Click on an image for more options)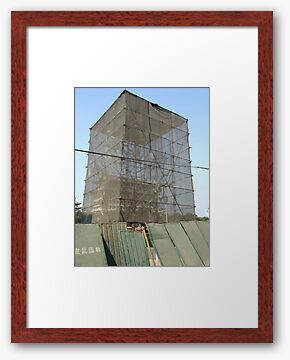 Related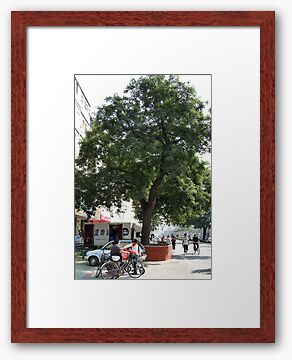 ---