Text and photograph © 2011, Marjolein Katsma
---
Tags for this photograph:
ferry dock, landing, pier, iskelesi, waiting, üsküdar, uskudar, eminönü, eminonu, haliç, halic, golden horn, boğaz, bogaz, bosphorus, haliç hattı, halic hatti, golden horn line, istanbul, turkey, türkye, turkye, flowers, flower sellers, taxi, tram, bus, colorful, sold
---
Part of my The joys of waiting for the ferry collection, shot in Istanbul, October 2011. Read more about it at the intro to the series.
You could use the collection to navigate the series, or use these small thumbnails below to jump around as you like.
Just like the row of ATMs, this row of flower sellers sitting very near the ferry dock in Üsküdar is waiting for people coming off, or going to the ferry. It had rained overnight and there was still a slight drizzle, so these flowers were a cheerful sight.
But there is more waiting here: first, a row of yellow taxis along the curb, behind that a red-and-white tram, and behind that again green buses: like many of the ferry docks, this is a transportation hub.
One thing intrigues me about these women: by virtue of how they wear their headscarves, the two on the left do not seem to be Turkish to me, but rather Turkmen, Uyghur or Uzbek – all of those more usually tie their scarf (if they wear one) at the back, or crossing round the back, with a knot on top of the head, while I've seen Turkish women tying them mostly at the front. And there's something about the face of the left-most woman (you cannot see that of the other). Here's a small crop at 75% of the original:
For comparison, this image shows three Uzbek women each with slightly different headscarf styles, but all tied at the back (click on the image to see the full version):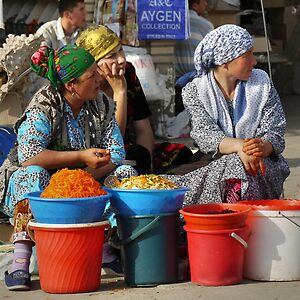 What do you think?
Camera: Panasonic Lumix DMC-G1

---