Photo and text © 2010 Marjolein Katsma
---
Tags for this photograph:
harbour, line, water, white, green, pier, harbor, amsterdam, mooring, netherlands, bitt, houthaven, wood harbor, bow line
---
Recently I made an exploratory photo walk in and around the Houthaven (Wood harbor) in Amsterdam and had a lot of fun. (Note the photos Google maps is using here are pretty outdated, since the area is under development.)
I'm always fascinated by the variety of things used to fasten a boat or ship to something stable like a wharf, a jetty or the sea bottom – both the iron or wooden shapes to fasten them to and the lines, anchor lines, and anchor chains to fasten them with. We've seen a collection of chains, cables and lines so now it's the turn of the things they are tied to – usually iron these days – both shipside and landside. We'll start with a small collection that shows them in combination.
Here we see a bow line (the same type of line as in Line) fastened to a small bitt that juts out from a pier. This was shot in an area of the Houthaven where "idle" ships can be berthed for up to one week; I got most shots in this series in this area. There is a series of piers jutting out from a dam, each providing two berths at the end.
This is the bow line of the Destino, also visible in this shot (image is a link):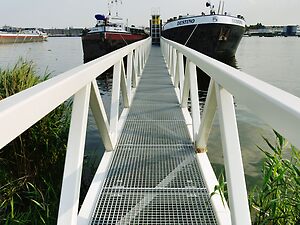 Taken in Houthaven, Amsterdam, Netherlands 2010-06-26
Camera: Panasonic Lumix DMC-G1

Suggested products
Like what you see? Click on an image for more options!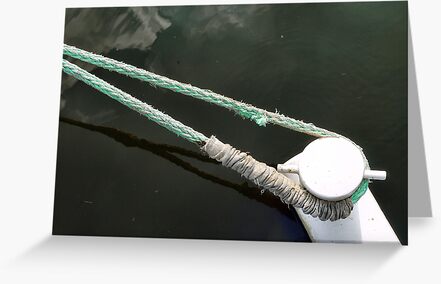 Related
---