Photo and text © 2010 Marjolein Katsma
---
Tags for this photograph:
abstract, harbour, rust, abandoned, brown, harbor, chain, amsterdam, netherlands, anchor chain, metal, heavy metal, steel, look down, houthaven, wood harbor
---
Last Saturday I made an exploratory photo walk in and around the Houthaven (Wood harbor) in Amsterdam and had a lot of fun. (Note the photos Google maps is using here are pretty outdated, since the area is under development.)
I'm always fascinated by the variety of things used to fasten a boat or ship to something stable like a wharf, a jetty or the sea bottom – not just the iron or wooden shapes to fasten them to but also the lines, anchor lines, and anchor chains. Whatever the materials, fastening something unstable to something stable dictates utmost flexibility.
As expected, there was no shortage of these things in the Houthaven, so I had a ball finding nice examples and photographing them.
Both visually and conceptually, this jumble at first seems like an exact opposite of the previously posted Line – one is synthetic, in use, neat and taut, the background suggesting it's well taken care of, while this old anchor chain is just a jumble of rust which I found sitting on a jetty: it's neither in use nor stowed away ready for use but just abandoned there.
Yet both belong to this same "class" of things used to tie the unstable boats and ships to something stable.
This is a triptych I made of three shots of the same pile of rust – I'll post the separate shots later.
Taken in Houthaven, Amsterdam, Netherlands 2010-06-26
Camera: Panasonic Lumix DMC-G1

Suggested products
Like what you see? Click on an image for more options!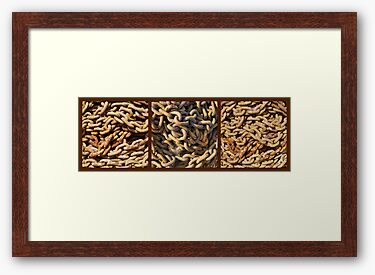 Related
---