Rosa on facebook | Photography © 2010 Marjolein Katsma
---
Tags for this photograph:
white, hat, curl, mexico, fashion, amsterdam, ribbon, netherlands, rosa, claudia, palm leaf, rosa albarran, hats by rosa, hbr
---
Rosa Albarrán is a fashion designer, originally from Mexico, who has lived in Amsterdam for many years now. Lately she's been designing and making a lot of hats. She asked me to photograph some of them, with both her and her daughter Claudia modeling – for a bit of mutual promotion – and I gladly agreed.
Her designs are always 'outside the box' and often humorous. This is one of the images taken during the shoot on 2010-04-27. Don't miss the separate collection of my personal favorites of the shoot.
This is the 'card' version made especially to avoid automatic cropping.
You can click on the card image below to order postcards or greeting cards. Click on the sample image below that to go to the 'normal' version for more background information or to order other types of prints.
Hat design: Rosa Albarrán
Model: Claudia
Taken in Amsterdam, Netherlands 2010
Camera: Panasonic Lumix DMC-G1
Rosa on facebook (members only)
Order as greeting card:
Just click on the image to order this as a greeting card or postcard.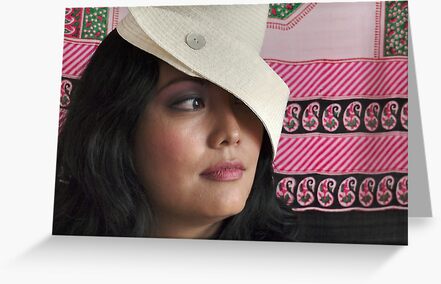 Normal version / other prints:
Just click on the image to go to the normal version; you can order other prints from there.
---