Photo and text © 2010 Marjolein Katsma
---
Tags for this photograph:
amsterdam, netherlands, metal, heavy metal, cast iron, drain, cover, covered, look down, accidental, ordinary amsterdam, storm drain, yellow, rust, weegels, struyk verwo aqua, weert
---
I had some shopping to do (market, household stuff, supermarket…) and decided to take my camera for a change since the weather was so nice and I was not in a real hurry. And found I should do that more often!
This shot shows the cover of a storm drain – part of what by now is a small collection that I'm thinking of as "heavy metal" as well as part of two of my permanent themes: Look down!, and Covered (see below).. The little hole is for a hook to lift the cover off; particularly when a big specialized truck with an enormous articulated hose comes by to suck out debris that tends to collect and may clog it up.
A indicated by the text in the cover, this storm drain was produced by Weegels Beton BV in Weert; the company is now integrated into Struyk Verwo Aqua who still produce similar storm drains.
Seen from the sidewalk – the three bricks at the top are part of the gutter at the edge of the street pavement.
And I have absolutely no idea what that yellow cross painted on it means (if anything!). I'd noticed them before. Must try to find out…
Update (2010-06-15): A little searching revealed that in our area the whole 'water cycle' is managed by an organisation called Waternet – and that of course includes drains and sewers. A quick phone call to their friendly customer service information department later I got the information I was after: The yellow crosses mark the main drainage points which get extra attention (including camera inspection) to determine when and where maintenance is needed to prevent blockage.

| | |
| --- | --- |
| | Totally accidental: Only on waking up the day after did I realize that I had also shot a perfect letter 'X'… |
Covered is about the covers that give (or deny) access to the world below our pavings, especially in our cities, and how they are placed in, or clash with, the pavement. At the very least these covers prevent us from tripping or falling into holes.
Camera: Panasonic Lumix DMC-G1

Suggested products
Like what you see? Click on an image for more options!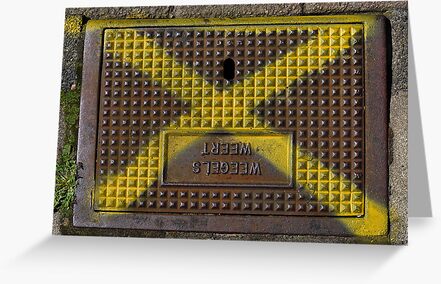 ---