Rosa on facebook | Photography © 2010 Marjolein Katsma
Rosa Albarrán is a fashion designer, originally from Mexico, who has lived in Amsterdam for many years now. Lately she's been designing and making a lot of hats. She asked me to photograph some of them, with both her and her daughter Claudia modeling – for a bit of mutual promotion – and I gladly agreed.
Her designs are always 'outside the box' and often humorous. Here are my personal favorites of the shoot. (Other shots will be uploaded later to give Rosa and her friends the opportunity to view them all and order prints.)
About this hat:
Narrow ribbons of a material made from palm leaf were first sewn together to form a broad band, which was then curled up to make this hat.
For nearly every shot I made a separate 'card' version to control the crop, since most shots are already closely framed.
You can click on the sample image below to order prints. Click on the 'card' image below that to get to (and order) the card version.
Hat design: Rosa Albarrán
Model: Claudia
Taken in Amsterdam, Netherlands 2010
Camera: Panasonic Lumix DMC-G1
---
Tags for this photograph:
white, hat, curl, mexico, fashion, amsterdam, ribbon, netherlands, rosa, claudia, palm leaf, rosa albarran, hats by rosa, hbrfav
---
Use the small thumbnails below to navigate within this series of photographs.
Order prints:
Like what you see? Just click on the image to see it preconfigured for you. Of course you can also choose a different format if you like that better!
Order as greeting card:
Just click on the image to order this as a greeting card or postcard.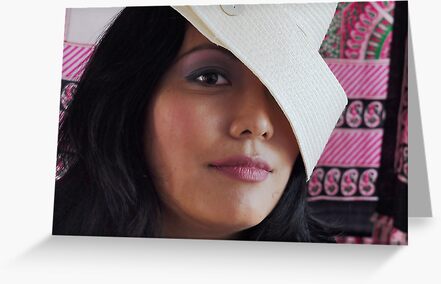 ---