Photo © 2009 Marjolein Katsma | Text © 2010 Marjolein Katsma
---
Tags for this photograph:
travel, station, train station, railway station, decoration, dome, emblem, railways, kyrgyzstan, bishkek, kyrgyz motifs
---
I love traveling, and I love traveling by train, so wherever in the world I am, trains and stations have a special attraction for me – not just that the trains and the buildings themselves can be quite interesting, but also the idea of going into the station, hopping on a train, going somewhere else again…
We had not much time in Bishkek, the capital of Kyrgyzstan, but it's an interesting and quite pleasant city, designed with lots of shade-providing greenery. To get to the center from our hotel, we had to somehow cross the railway, and I suspected there might be a tunnel or bridge in-between the road-railway crossings. To my delight, sure enough there was an elegant footbridge, almost hidden from view from the road by a lot of trees.
Approaching the other side of the bridge, I had a closer look at the station building: it looked really promising, I just had to have a look inside!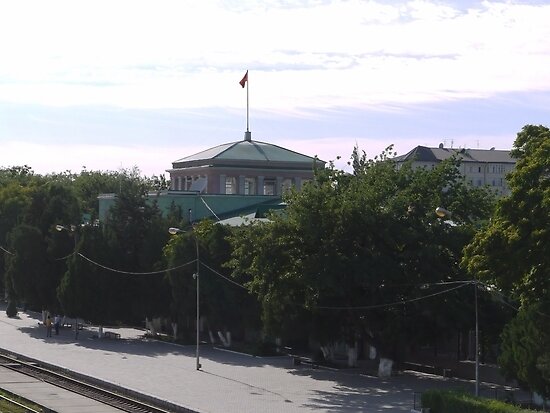 When we reached the station, my two companions walked on, but I sped up the stairs, and went inside. When I looked up, my mouth dropped open: a wonderful ceiling inside that light dome, decorated with traditional Kyrgyz motifs as they are found on the felt blankets and cushions, and in the middle the old (Soviet-Union-era) emblem. From the hall, you see the latter upside-down – below a rotated detail :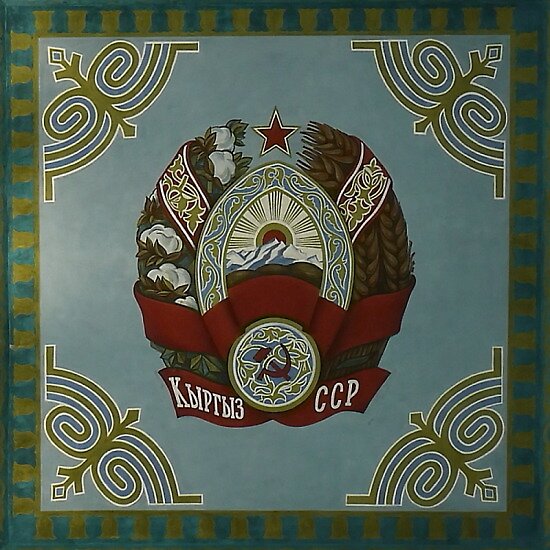 Taken in Bishkek, Kyrgyzstan 2009
Camera: Panasonic Lumix DMC-G1
Suggested products:
Like what you see? Click on an image for more options!
Related
---