Photo © 2006 Marjolein Katsma | Text © 2010 Marjolein Katsma
---
Tags for this photograph:
corn, travel, rain, tractor, broom, trailer, farming, harvest, hurry, sack, commune, north korea, dprk, farming equipment, collective farm
---
North Korea, September 2006. This summer there has been heavy flooding due to heavy rains, causing flash floods, landslides, and many deaths. And a huge portion of the crops have been lost in the flooding.
While in the cities the people look healthy and well-fed (you are privileged if you can live in the city), in rural areas it's visibly different. Farmers are scrambling not only to get their assigned crops grown – they've started new crops but it's not certain it can all be harvested so late in the year – but also to grow enough food for themselves. At least the weather has been a lot better, so there's hope the late-planted crops will succeed.
But every now and then there's still quite a bit of rain. While we visit a communal farm (they're producing fruit, partially for export), it's a rainy day. They had been drying corn outside but now they're scrambling to get it all gathered up and inside: it's getting wet again! While our guide gets a bit nervous that we are taking pictures of them (causing us to hurry as well), the farmers are actually in so much of a hurry they barely notice us: the longer they take, the wetter the grains will be, the harder it will be to get them dry for storage again.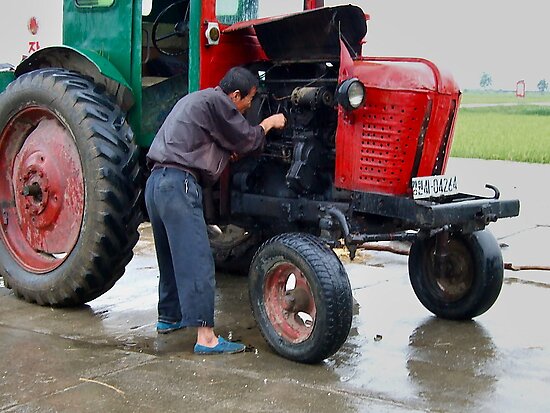 Look at their equipment: a battered trailer, an antique tractor (it looks 1940s vintage) of which the engine was giving them grief. Coarse, hand-woven, hand-stitched sacks (it looks like they're made of straw!), and hand-made brooms made of branches: every last grain of corn will be swept up, cause the harvest is meager. At least in the field behind them rice is growing – but that was planted late: hopefully it will give them a crop, otherwise they'll have little food the coming winter. (At least they also have a fish farm, which is doing well.)
Photo taken in a hurry, under a dark sky, with a compact camera: not a recipe for optimal quality. I tried to capture some of the drama of their hurry by giving it a 'dramatic' treatment.
This photo is part of a set (see Related below). The tractor photo is for illustration since it is of too-low quality for wall art; available on request though (see under 'Contact').
Taken on a collective farm near Wŏnsan, North Korea 2006
Camera: Fuji Finepix F30

Suggested products
Like what you see? Click on an image for more options!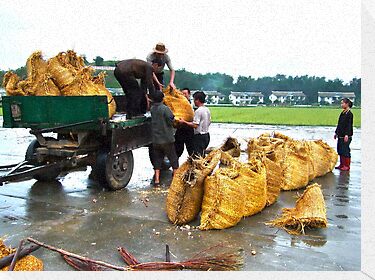 Related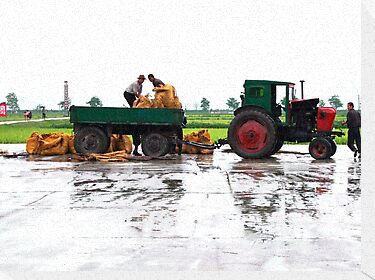 ---