These lovely Arums (Calla Lily) grow in mum's garden. Mum often brings me small bunches of these delicate trumpets, which to decorate my home.
Every Arum (Calla) is unique and different .- (Just like us humans, not one is the same.)
Set Up
My two Lilies were placed up against my living room wall allowing for soft natural light coming from a window on the left.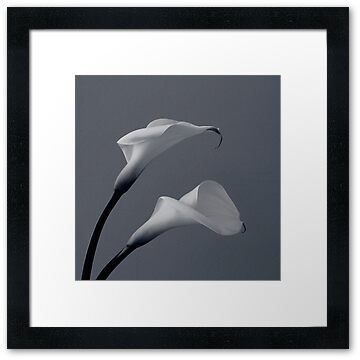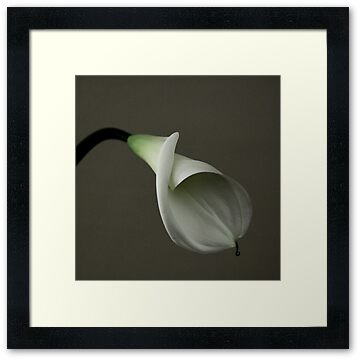 Canon EOS 50D on tripod
Canon Lens EF24-105mm f/4L IS USM
Shooting Mode Aperture-Priority AE
Tv( Shutter Speed ) 1/20
Av( Aperture Value ) 5.6
Metering Mode Evaluative Metering
Exposure Compensation 0
ISO Speed 1000
Focal Length 58.0 mm
White Balance Mode Cloudy
Picture Style Monochrome
Flash – OFF
Single Raw File
Slight Crop…. decreased Brightness ..elevated contrast with a hint of blue
Shooting Date: 20th July 2010