Please scroll down to see stages
This is an ongoing project I just started for JoJie16.
I will interpret Lars' wonderful image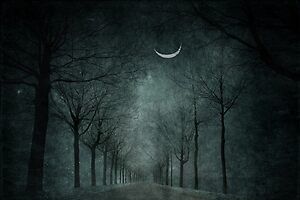 When the moon is tired, it rest in the arms of nature
by LarsvandeGoor
This is the first phase, I am not sure yet where I am going with it.
Stage 1
I am not sure where I am going with this work. I really like Lars' original image and I would like to create something which reminds of this work somehow, but not to be very similar.
Stage 2
Well, it happend that the power company was trimming trees in the next street, and they turned the power off for a whole morning.
I can live without food, but not without electricity. Having not much choice in regards of activity, I decided to paint.
It was quite an experience holding the brush in the deep silence, but I tried not to think about it. Thus, I freed a bit my mind, which resulted in a totally different image of what I originally intended.
II tried to take better photos, but it did not work, The original looks much, much better :)


Work in Progress for SoJie Workshop
by Mary Sedici
Stage 3