W&N watercolours on Bockingford 300gsm
Wit varkoor (Afrikaans); intebe (Xhosa) ihlukwe (Zulu)
Family: Araceae (Arums, Anthurium, Caladium and Philodendron)
My Arums started flowering a couple of weeks ago and the rain we have had over the weekend will certainly give them a push-start for the rest of the summer.
The familiar Arum Lily, with its opulent and sophisticated pure white spathes which brighten up watercourses and wetlands in spring and summer, belongs to an indigenous genus which is restricted to the African continent.
The common arum is found from the Western Cape through the Eastern Cape, KwaZulu-Natal, Mpumalanga and into Limpopo Province in South Africa. It is evergreen or deciduous depending on the habitat and rainfall regime. In the Western Cape it is dormant in summer and in the summer rainfall areas it is dormant in winter. It will remain evergreen in both areas if growing in marshy conditions which remain wet all year around.
Although called the arum lily, it is neither an arum (the genus Arum) nor a lily (genus Lilium). But it is associated with the lily as a symbol of purity and these elegant flowers have graced many bridal bouquets.
Now, here's the thing… The striking arum lily "flower" is actually many tiny flowers arranged in a complex spiral pattern on the central column (spadix). The tiny flowers are arranged in male and female zones on the spadix. The top 7 cm are male flowers and the lower 1.8 cm are female. If you look through a hand-lens you may see the stringy pollen emerging from the male flowers which consist largely of anthers. The female flowers have an ovary with a short stalk above it, which is the style (where the pollen is received). The spadix is surrounded by the white or coloured spathe. The whiteness of the spathe is not caused by pigmentation, but is an optical effect produced by numerous airspaces beneath the epidermis.
The rhizome is large and eaten by wild pigs and porcupines and the ripe fruit enjoyed by birds. Traditionally in South Africa, the plant is boiled before eaten as raw plant material causes swelling of the throat because of microscopic, sharp calcium oxalate crystals. The leaves are also traditionally used as a poultice and a treatment for headaches.
Much of this information from PlantzAfrica

28th June 2013 – SOLD 1 Photographic Print – thank you to the buyer!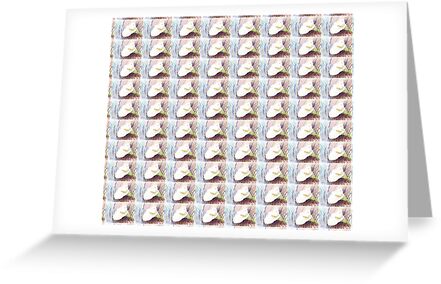 Greeting card for a fellow Arum-lover