"And God took a handful of southerly wind, blew His breath over it and created the horse."
- Bedouin Legend
Pencil, Black waterproof Pilot Calligraphy Lettering Pen sketch, candle wax and W&N 'Sepia' watercolour on Bockingford 300gsm
The historic mining village of Kaapsehoop is situated about 25 kilometers from the town of Nelspruit in the South African province of Mpumalanga. It is within this paradise-like setting that the legendary wild horses of Kaapsehoop roam freely. Kaapschehoop has the only wild herds in South Africa, whilst the other nearest known wild horse occurrence is in Namibia.

19th April 2012 – SOLD 1 Poster – thank you to the buyer!
10th February 2014 – SOLD 1 Greeting Card – thank you to the buyer!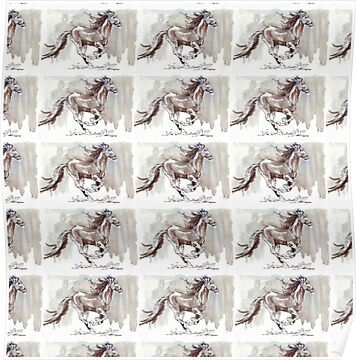 Poster for teenager equine-lover's bedroom