Flowers have an expression of countenance as much as men and animals. Some seem to smile; some have a sad expression; some are pensive and diffident; others again are plain, honest and upright, like the broad-faced sunflower and the hollyhock.
- Henry Ward Beecher
Besides daisies, one of my favourite flowers to paint – Sunflowers. Done with no preliminary sketching – putting only colour, starting from the centres of the flowers, then the petals, the leaves and, finally, the background tonal values.
Watercolour on Bockingford 300gsm – 8″ × 12″
---

21st July 2011 – 1 Greeting card, Thank you!
---
From my portfolio of Flowers

Mounted print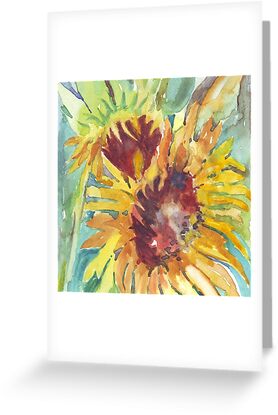 Greeting card

Affordable Matted print – do your own framing