I'm absolutely mad about Echeverias and have a small section in my garden set aside just for them. My collection started off in the late 70's when my father gave me three rosettes in a pot, which I transplanted into a rockery and soon they covered the whole area. Since then I have given away hundreds to friends, the geese got out of the pond area and made a hearty meal of them and they've survived many of the severe frosts we get in our area.
Echeverias are natives of Latin America—specifically Argentina and Mexico. For that reason, many of them can't tolerate frost or cold weather. Here in Tarlton (Gauteng, South Africa), it takes them virtually all summer to recuperate from the winter, and then winter lashes out again.
Echeverias can be propagated from the pups taken from mature plants. I cut these off close to the mother plant, and stick them in a pot of their own. This method produces plants exactly like the original. Plants can also be propagated from leaf cuttings and cuttings of the flower stalk. If you attempt to grow cultivars from seed, the resulting seedlings may be slightly different in appearance.
Echeverias are noted for their striking foliage, arranged in picturesque rosettes. For some kinds, the rosettes are loose, while in others, it is very tightly packed together.
Ink sketch and watercolour in Moleskine Watercolour Notebook – 8″ × 5″
29th June 2011 – FEATURED in Sketching and Drawings
---

4th July 2011 – 1 Greeting card to Alma – Thank you!

My little Echeveria corner

The fat, open florets of these Echeverias (above and below), attest to the great amount of rain we've been having. During drought, the rosettes are smaller and more tightly packed.
---
From my portfolio of Flowers 1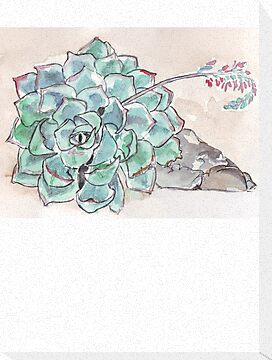 Canvas print

Mounted print

Easy-to-clean Laminated print with White border for your garden shed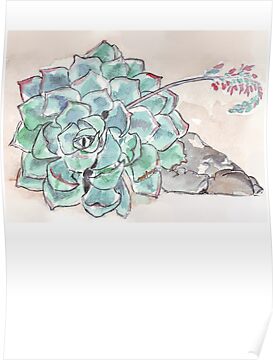 Poster for School or field study class room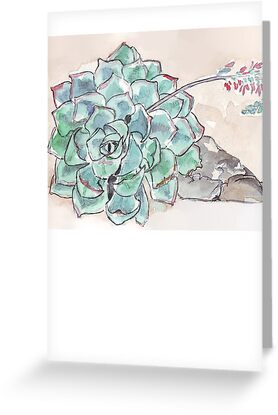 Greeting card