I did this painting with coffee on a tea-stained back-ground(Five roses, black, and VERY strong!) – Bockingford 300gsm – 12″ × 8″ (After seeing Barbara Glatzeder's coffee art, I also started using this medium, which I find totally exciting!)
.
Man is the only creature that consumes without producing. He does not give milk, he does not lay eggs, he is too weak to pull the plough, he cannot run fast enough to catch rabbits. Yet he is lord of all the animals."
- George Orwell~
The Painted dog or African Wild Dog (Lycaon pictus), is a medium-sized canid found only in Africa, especially in savannahs and other lightly wooded areas. It is also called the Painted Hunting Dog, African Hunting Dog, the Cape Hunting Dog, the Spotted Dog, the Ornate Wolf or the Painted Wolf in English, Wildehond in Afrikaans, and Mbwa mwitu in Swahili. It is the only extant species in the genus Lycaon, with one species, L. sekowei, being extinct.
There were once approximately 500,000 African Wild Dogs in 39 countries, and packs of 100 or more were not uncommon. Now there are only about 3,000-5,500 in fewer than 25 countries ore less. They are primarily found in Eastern and Southern Africa, mostly in the two remaining large populations associated with the Selous Game Reserve in Tanzania and the population centered in northern Botswana and Eastern Namibia.
.
Whilst the largest population resides in the Kruger National Park (South Africa), some wild dogs have been released into Madikwe, Pilanesberg and Hluhluwe-Imfolozi, South Africa.
6th February 2011 – FEATURED in Let Animals Stay Free
---
Also see some of Brenda Dow's coffee art, as well as Elizabeth Kendall's Barefoot in the Rain
From my portfolio of Coffee Art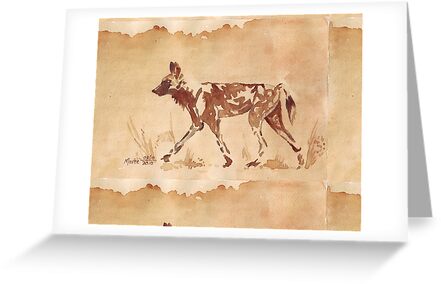 Greeting card

Mounted print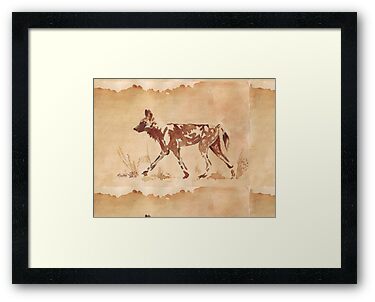 Framed print

Affordable Matted print – do your own framing