Red Deer Stag taken at Bushy Park in London today on a meet with fellow Red Bubbler Dave and his wife Julie, – had a great day Guys.
Canon 7d & Canon 100-400 IS L
Full frame shot @ 400mm taken in the early morning light.
477 views/54 Favourites
Featured Red Bubble Explore Page – January 2011
_Ace Image – Ace Cafe Group – January 2011_
Instant Feature Award – Most Favourite Group – December 2010
Real Life Photography
Antlers Racks & Other Horned Animals
Animals as they Should Be
Closeups In Nature
Even Toed Unuplates(Mammals) Atiodactyla
You Big Softy
Nature in its Entirety
For the love of animals
Most Favourites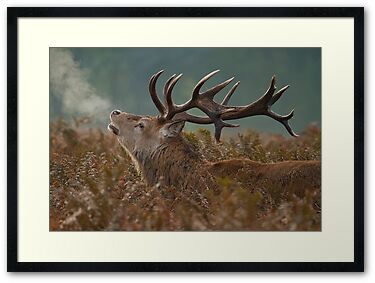 The Red Deer (Cervus elaphus) is one of the largest deer species. The Red Deer inhabits most of Europe, the Caucasus Mountains region, Asia Minor and parts of western and central Asia. It also inhabits the Atlas Mountains region between Morocco and Tunisia in northwestern Africa, being the only species of deer to inhabit Africa. Red Deer have been introduced to other areas including Australia, New Zealand and Argentina. In many parts of the world the meat (venison) from Red Deer is used as a food source.
Red Deer are ruminants, characterized by an even number of toes, and a four-chambered stomach. Recent DNA evidence indicates that the Red Deer (Cervus elaphus) and the East Asian and North American Elk (Wapiti) (Cervus canadensis) represent two distinct species. They also hint at an additional primordial subgroup of Central Asian Red Deer. The ancestor of all Red Deer probably originated in Central Asia and probably resembled Sika Deer.
Although at one time Red Deer were rare in some areas, they were never close to extinction. Reintroduction and conservation efforts, especially in the United Kingdom, have resulted in an increase of Red Deer populations, while other areas, such as North Africa, have continued to show a population decline.
Source Wikapedia