Keel-billed Toucan (Ramphastos sulfuratus) was taken at the Swiss Tropical Gardens of
the Papiliorama in Kerzers, in the canton of Fribourg which is in the heart of the Three Lake region.
This part of the Papiliorama, is called Jungle Trek and is an exact copy of the 11'000 hectares of the protected area of Shipstern, in Belize, Papilioramas Nature Reserve in Central America.
I achieved the dark background with DOF and a slight increase of saturation which blackened any left over details. No Photoshop!
Views per 11.06.2014 – 2878
Also available: 'nothing to say version'
Titled 'I can, you can, Tou can'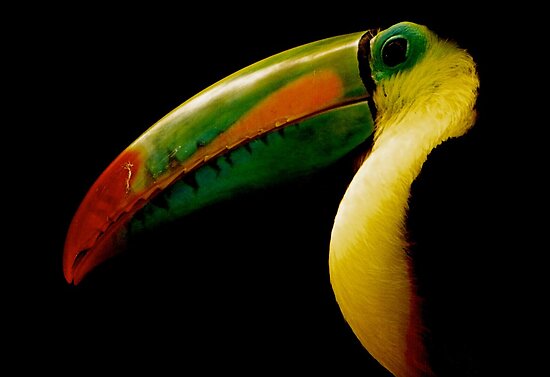 Featured in:
-Photography Challenge Group. May 2013
-Amazing Wildlife Group. November 2012
-ARTISTS UNIVERSE. August 2011*
-Amazing Wildlife. April 2011*
-BirdsBirds! January 2011*
-Alphabet Soup. November 2010*
-#1 Artists of RedBubble. July 2010*
-High Quality Cards: Animals and pets. April 2010*
-Around The World. April 2010*
-Human, Animal, Nature. April 2010*
-Style! Class! Elegance! Excellence! April 2010*