PLEASE CLICK ON THE IMAGE, A MUST ON LARGE VIEW!
_Featured in the groups_
The World as we see or missed it
Postcard Destinations
Wild Africa
Pictures with the WOW factor
Amazing Wildlife
Close Ups in Nature
The World
Artist Universe
Afrikaans is my mother-tongue
The Power of Photography
High Quality Images Permanent Feature page
CAPTURED: "THE KRUGER NATIONAL PARK" SOUTH AFRICA
Nikon D50
2011/05/17 11:25:18.2
Lens: VR 80-400mm F/4.5-5.6 D
Focal Length: 145mm
Metering Mode: Multi-Pattern
1/1000 sec – F/5
WITH MY LAST VISIT TO THE PARK, WE HAD THIS EXTRAORDINARY EXPERIENCE OF THIS MASSIVE ELEPHANT JUST FOLLOWING OUR VEHICLE! THIS WAS SUCH A CLOSE-UP CAPTURE THAT I COULD ACTUALLY SMELL THE BIG GUY!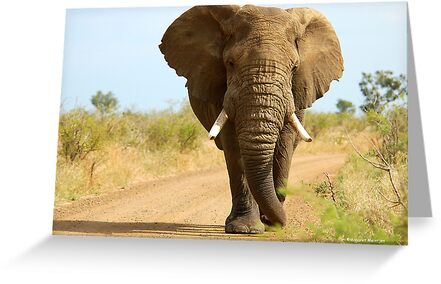 THE AFRICAN ELEPHANT – Loxodonta Africana
Location captured: "The Kruger National Park", South Africa.
Elephants have a highly developed social structure and family units are led by a cow elephant or matriarch. The matriarch is, by natural selection, the most experienced member of the group and automatically assumes leadership. The composition of the herd varies and one will find bulls of various ages in attendance. A bull may be distinguished from a cow by its rounded forehead; the cow's forehead is angular. Both have tusks. Bulls leave the family unit at puberty (10 -12 years) and, in many instances, are driven out by the older cows.