LARGE VIEW RECOMMENDED
Captured Location: THE KRUGER NATIONAL PARK, SOUTH AFRICA
Nikon D50
2011/05/14 16:01:40.2
RAW (12-bit)
Lens: VR 80-400mm F/4.5-5.6 D
Focal Length: 80mm
Metering Mode: Multi-Pattern
1/400 sec – F/5
Exposure Comp.: 0 EV
Sensitivity: ISO 400
She appeared right in front of me, very hungry, moved into the dense bush, the next minute I saw her crawling and I knew she was on the hunt!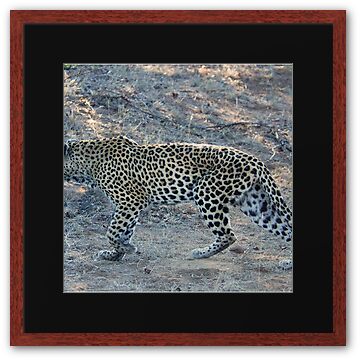 THE LEOPARD – Panthera pardus
These solitary cats are the largest of the spotted cats of Africa. The weight of an adult male is about 60kg and the female about 30kg. The leopards of the mountains of the southern and South Western Cape tend to be smaller. There is considerable color variation over their range from India to Southern Africa.
The so-called 'black leopard' is more common in India, Somalia, Ethiopia and Zaire and has also been encountered in South Africa.
Leopards are silent, secretive animals, whose vocalization is a hoarse, rasping cough, repeated at intervals. They move in a casual loping stride, or they may make off at a bouncing gallop, changing to a frost trot. All of their senses are well-developed as their efficient hunting reveals. They like to lie out on high vantage points in the mornings or late evenings, where they may watch for prey. They have a wide habitat tolerance, but prefer forest and the more hilly areas with rocky prominences and hiding places, bushy areas, and tall grass with associated rocky places. They are also found in arid areas, where they will hide up in deserted Ant bear holes. True desert areas are unsuitable, but they may penetrate these areas along treed water-courses.
They are sometimes killed by Lion, Hunting dogs, Spotted Hyenas and crocodiles. The young by hyenas and jackals. Litters of one to six, usually three to four, altricial cubs are produced in caves or other sheltered places with plenty of cover. After about four months they will begin to accompany their mother and make their first kill at about five months.
An extremely wide range of animal food is utilized. They are notorious man-eaters in certain parts of the world, but this is very rare in this sub-region. The major prey taken seems to be small and medium sized antelope, such as adult kudu, wildebeest and hartebeest. Baboons are a favored fare, although leopards have serious trouble with the baboon troops if they foolishly attack a member of the clan too openly. Such animals as bush pigs and warthogs are taken as are jackals. Their liking for the domestic dog is notorious and places, such as the town of Kariba in Zimbabwe, have a distinct absence of these domestic pets. Unusual fare is snakes, porcupines, fish, domestic stock, birds such as guinea fowl, rats, mice and also carrion.
The strength of the leopard is clearly shown in their habit of dragging a very heavy kill up into high branches of a tree to protect it from other scavengers.