CAPTURED LOCATION: THE KRUGER NATIONAL PARK, SOUTH AFRICA
Nikon D50
Lens: Sigma 70-300mm DG
Focal Length: 300mm
1/320 sec – F/5.6
tie winner in the group:
Local critters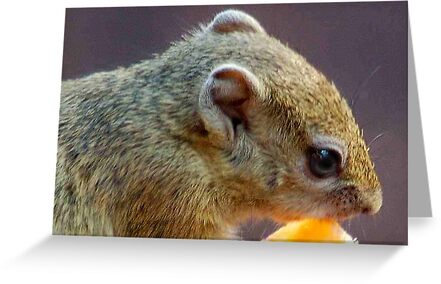 THE TREE SQUIRREL – Paraxerus cepapi
These all brown diurnal squirrels, with lighter underparts, are a common feature of the drier savannah bushveld and woodland. Their undulating run along the ground and rapid passage up into a tree are both common sight.
These small animals are usually solitary but pairs, or a small party of a female and two young, may be seen. However, groups of two adult males or females, accompanied by sub-adults, or in the breeding season as many as seven young live together. They will mob a predator, vocalizing a penetrating clicking sound and flicking their tails, while sitting on a safe vantage point. Should the danger increase so will the intensity of the clicking, which will rise to a harsh rattle, while the tail-flickering tempo is similarity increased? In extreme danger they will utter a high pitched whistle.
A common sight in the bushveld is an individual about to enter a nesting hole and being confronted by the occupant, Nose to nose a mutual sniffing will ensure and, if the visitor is from the same group, it will be allowed to visit, but if not, will be chased off.
They are very agile in their arboreal habitat, able to leap for distances up to two meters. They forage on the ground and when disturbed tend to head for their nesting hole, which may mean leaping from tree to tree, they also habitually lie flat on a branch, relying on camouflage and waiting for the danger to pass. They also tend to place themselves behind a branch or tree trunk away from perceived danger.
Their nests are in holes in trees, generally made by woodpeckers; these are grass and leaf lined. Their vocalization, apart from the alarms, is a long drawn-out 'tchuk-tchuk-tchuk' interspersed with single 'tchuks', which are accompanied by tail-flicking.
Enemies are mongooses, caracal, genets, larger birds of prey and pythons. One two three, usually two, young are produced.
FOOD: They are predominantly vegetarians, eating flowers, leaves, bark, fruit and tender shoots of a wide variety of trees. Both sexes bury hard food, such as nuts, in scattered localities. They are very secretive about doing this and never do so in the presence of another squirrel, despite this stealing does take place.