Captured Location: The Kruger National Park, South Africa.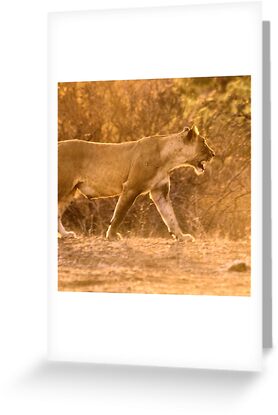 Camera Nikon D50
Lens: Sigma 70-300mm
Focal Length: 300mm
Exposure Mode:
Metering Mode: Multi-Pattern
1/640 sec – F/5.6
Exposure Comp.: 0 EV
Lionesses form the nucleus of the pride, which is rarely moved beyond its established range. When the other young males in the pride are perceived by the dominant male to be possible threat, it drives them away, when they either join other prides if permitted, or if old and strong enough, form their own pride. The dominant male frequently has two prides and also ranges far and wide. Cubs and very young lions are constantly in danger within the pride from irritable adults, particularly the dominant male, that will, with or without apparent provocation, sometimes lash out and maim or kill them.
Lions have a wide habitat tolerance, from desert conditions to fairly dense bush. They are absent from densely afforested areas. Because of their nomadic nature they are particularly vulnerable outside of conservation areas. Where there are unfenced reserves they will move beyond these safe havens after stock. This brings them into conflict with man and usually these errant lions will eventually be eliminated.
Lions are active at night, mainly around sunrise and early evenings. In the day they laze away the hours in the shade, or move sluggishly around. The nocturnal hunting is a combined effort to frighten and confuse the prey. The male gives a mighty roar, which is heard across great distances, but the female usually does the killing. In the case of small prey, a swipe from a powerful paw is sufficient to kill it. Larger prey are killed by having their necks twisted and broken by a powerful wrench between the lion's forelegs and its jaws, which are clammed to the victim's neck. Larger animals are also suffocated by a powerful grip across the larynx or the muzzle.
One to six, usually three to four, altricial cubs are produced. When the pregnant female is ready to give birth, she leaves the pride, to rejoin only when the cubs are 4 – 8 weeks old, returning only if the older cubs already in the pride has weaned and will not be a danger through competition for food to the new arrivals.
The birth rate among lions are fairly high, but so is the mortality rate. Loss is due to predation by such animals as hyaena, lack of sufficient food or death by misadventure in the paws of the other members of the pride.
Food: An extremely wide range of food is consumed. Virtually anything palatable that moves, even insects, mice and up the size scale to buffalo or even elephant – if the lions are lucky it would seem, however, that the wildebeest is the prime choice.