LOCATION CAPTURED: "The Kruger National Park", South Africa.
Nikon D50
2009/11/10 06:15:57.4
Lens: Sigma 70-300mm DG
Focal Length: 240mm
Exposure Mode:
Metering Mode: Multi-Pattern
1/30 sec – F/5.3
Exposure Comp.: 0 EV
THE WHITE RHINOCEROS – Ceratotherium simum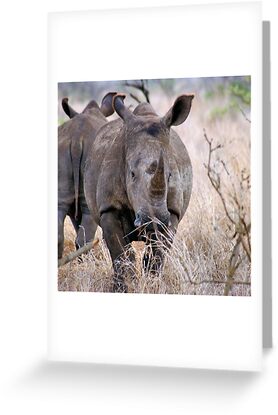 Shoulder height: 1,8m Mass: Up to 2 000kg
GESTATION:
18 Months, single calf at intervals of three years.
The jaw is square and the head is carried low., larger than the black rhinoceros, it is by contrast, far more placid and less prone to attack.
Curious by nature, tapping sounds draw its attention. In the event of a fast approach, get behind a tree.
Eyesight is poor, but both hearing and smell are acute.
The tail loops over the back when the animal is on the move.
It can reach of up to 40km/h over short distances.
It is fond of mud wallows and rubbing posts which are often polished to a fine surface.
The calf walks in front of the mother.
They are grass eaters.