CAPTURED LOCATION: "THE KRUGER NATIONAL PARK", South Africa.
989 Views as at 2011/01/17
Camera: Nikon D50
Lens: SIGMA 70-300mmD 1:4-5.6 DG
Also see THE JUVENILE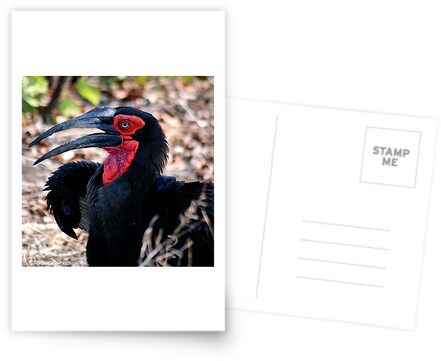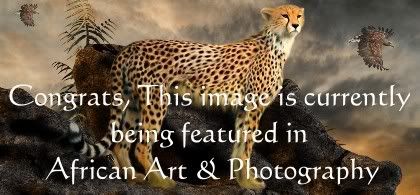 ENDANGERED SPECIES
Bucorvus leadbeateri – SOUTHERN GROUNDHORNBILL
The Southern Ground Hornbill, Bucorvus leadbeateri, is the largest of the 58 Hornbill species distributed mainly in Asia, India and Africa.
Southern Ground Hornbills are charismatic birds, easily identifiable by their appearance and signature call. Unfortunately, less than 1500 Ground Hornbills are left in South Africa. The species is classified as vulnerable in the Eskom Red Data Book of Birds of South Africa, Lesotho and Swaziland.
Ground Hornbills live in family groups of between two and eleven birds, comprising a dominant alpha breeding pair, a variable number of juveniles and adult male helpers. The species' vulnerability is increased due to this social structure, and by the fact that only one out of two or three chicks can fledge. Ground Hornbills are extremely long-lived birds. The dominant pair only breeds on average every 2. 5 years and successful fledglings only occur on average every 9 years.
The stronghold for the species is primarily within formal conservation areas. With territories of over 100 km2, the birds forage over wide areas, but cannot survive and breed in areas without suitable natural holes in either trees or rock faces.
Disturbance at cliff sites and the removal of large trees, pose a threat to the survival of these birds. Other threats include deforestation, poisoning and the use of the species in local cultural practices, like rain-making. Another threat is direct persecution as a result of their habit of attacking their reflection in windows that can cause property damage.
Ground Hornbills are large, conspicuous, turkey-sized birds with black plumage and very characteristic red facial skin.
The Southern Ground Hornbill is a long-lived bird, and is the largest co-operative breeding bird in the world (and as such, is of great interest to science and scientists)
Groups can either consist of a single breeding pair or a large group with a dominant breeding pair and helpers of various ages.
Sexes look alike, but once they are fully mature, the males have fully red facial skin, while the female has a patch of violet blue below the bill, which in some cases can cover most of the lower parts of the facial skin
They are strong but low fliers with white primary feather, but are seldom spotted in flight.
They roost nightly in large trees in different locations.
. Ground Hornbills nest high in large trees with sizable cavities and in holes on cliffs. In 80% of clutches, the breeding female lays two eggs and the first egg is laid three to five days before the second. Since incubation commences with the first egg, the chicks hatch 3 to 5 days apart. The older chick may weigh 250g by the time the second hatched chick hatches, at about 60g. The eldest chick always out-competes its younger sibling for food and the younger dies of starvation within a few days from hatching
A Southern ground hornbill can live up to 50 or even 60 years.
A juvenile has beige facial skin up to about two years old. The skin then becomes mottled with red and blue spots. The facial skin will be entirely colored at about four
years old.
Southern ground hornbills nest in large natural cavities in huge trees. There have also been recordings of them nesting in cliff faces especially in KwaZulu Natal.
They are carnivorous birds. They will eat grasshoppers, worms, frogs, lizards, snakes and even tortoises. Ground Hornbills do not drink water, but rather get moisture from the food they eat.
They are strong flyers but are seldom seen as they fly low, and quite noisily, through the trees. They do not soar like other large birds.
Southern ground hornbills occur throughout the African savannas south of the Equator, in a continuous swathe from the East coast of South Africa through Zimbabwe, and across to Botswana, Zambia and Tanzania.
The earliest credible fossil record for Ground Hornbills is from 15 million years ago, from mid-Miocene deposits in Morocco. Later prehistoric tectonic and climatic changes split up the ranges on both the African and Asian landscapes. Now hornbills face alterations that come from human activity—including rapid, devastating changes both to habitat and to the global climate change, fragmenting many of their habitats and populations into dangerously small units, in this way threatening their survival. (Kemp & Kemp, 2006)
When a territorial male ground hornbill sees his reflection in a window, he is convinced that there is an intruder in his territory. He will go into attack mode and try to kill the intruder with his powerful bill.
This often leads to windows being broken and ground hornbills being very unpopular. Simply replacing the window does not always solve the problem as ground hornbills will often return to the same spot to make sure that the intruder has left.
Only one out of two or three Ground Hornbill chicks fledges
Ground Hornbills are important in South African culture due to the fact that they can supposedly end droughts.
Ground Hornbills can damage property when attacking their reflection in windows
Ground Hornbills nest in holes in trees or on cliff faces between 4 and 5 m off the ground
Ground Hornbills need very little water to survive
PROUD MEMBER: Endangered Wildlife Trust https://www.ewt.org.za