Work Stats
2012/03/10
Sales: 1
Comments: 99
Favorites: 16
Views: 1648
Featured in the groups:
Indigenous to East and Southern Africa
Topshelf Wildlife
Nature in it's Entirety
Amazing Wildlife
The World as we see it, or as we missed it
Wild Africa
Trough the eye of the LENS
It's in the Detail!
*The Group
Fauna and Flora South Africa
Close-ups in Nature
Woman Photographer
CAMERA NIKON D50
LENS: SIGMA 70-300mm DG
Views1072 as at 2011/04/02
!
HIPOPOTAMUS- AMPHIBIUS
LOCATION CAPTURED: The Kruger National Park, South Africa
SEEKOEI – Hipopotomus-Amphibius
Die Kruger Nasionale Park, Suid Afrika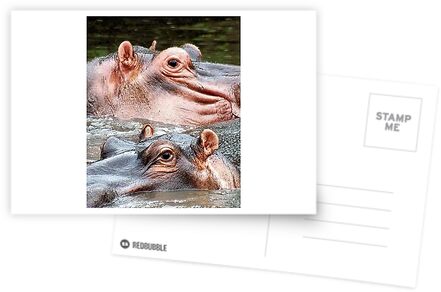 Hippopotamus amphibious
Gestation period plus minus: 250 days
Young: one, rarely two
Mass: male – 1.500kg, female 1.400kg
Shoulder height: male 150cm, female 140cm
Life expectancy 40-45 years, up to 50 years in zoos
These semi-aquatic animals spend much of the day in their watery habitat, or on mud banks. They favor permanent water with a sandy bottom, deep enough to submerge comfortably. Because of their bulk a fairly gentle sloping bank is needed to allow easy movement from the water. Rivers, dams and lakes are equally acceptable but hippos prefer permanent pools in which they remain, sometimes for years. They keep rivers and estuaries clean from reeds and silt build up and their disappearance from many southern African rivers has been detrimental to the ecology.
Their red coloring is an oily, viscous lubricant secreted as a protection from the sun. Unlike land mammals, they do not usually lie under trees. They also float immobile in the water with backs and heads exposed to the harsh African sun. Despite this protective secretion they cannot remain too long in the sun as skin damage could occur.
Normal herds number up to 15 animals, sometimes more, which comprise a dominant bull, females, sub-adults and young. Solitary bulls are also encountered. The dominant male is very territorial, savagely defending his herd from interloper and marking his territory by defecating in the water, on bushes and rocks with the characteristic side ways flickering of the tail. This territorial; behavior diminishes or even disappears at the feeding grounds.
At night the animals leave the water and head for their grazing grounds, which can be as much as 30km away, making well-defined paths which are like twin tracks, made by the feet on either side of the wide animal. If surprised while returning to the water, they can be extremely dangerous to any one crossing their path. They are possibly responsible for the deaths of more humans in Africa than any other wild animals. Hippos are often found walking along the bottom of deep water. Similar to their habitat on dry land they often use the same path which can be clearly seen.
Adult hippos can remain under water as long as six minutes, surfacing with the sound of a loud hissing blast of expelled air, which is audible for a long way. They are not afraid of entering the sea and are occasionally encountered beyond the breakers on the northern Natal coast. Their voice is a deep roaring grunt, followed by five shorter grunts in quick succession. This occurs most frequently at sunset.
The females leaves the open water to give birth to a single calf, rarely two, in a secluded place in reed beds. The calf is able to swim within a few minutes of birth and is carefully guarded by the mother, as it is a favorite fare of crocodiles.
FOOD: Hippos are prodigious feeders, their main food is grass, which they crop with the horny edges of their lips, almost as closely as a lawnmower. They are notorious crop-raiders.