I recently did a self portrait called The pieces of me and a poem to go with it.
Lisa saw it and showed me a poem she'd written some time ago, called Jigsaw which was along similar lines and said she'd always wanted a picture to go with the poem. So I told her to send me a picture and I'd have some 'jigsaw' fun with it. :-)
This is the first, simpler version, there's a second version where I've added more detail. I couldn't decide which one I liked better, so I've uploaded both. Here is the final version: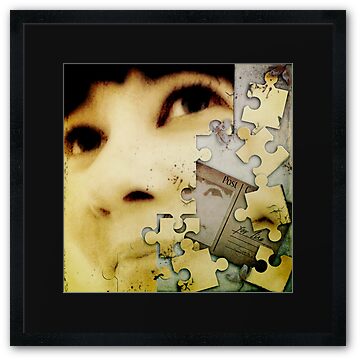 Credits
===
Model the lovely Lisa Jewell
Puzzle Custom Shapes by nadueLICIOUS
photoshop actions – 67 by night-fate
Perfect Portrait 3 Action by TheCoffeeshopBlog
Freebie Actions by Apples & Sisters
Subtle Tones Texture Set Part Two by Shadowhouse
Entropy Texture Set by Shadowhouse
Black Magick Texture Set by Shadowhouse
All other images/brushes/textures my own.