FEATURED IN:
'AT SEA' group, with many thanks.
A selective colour edit of the existing Minard Castle Beach image: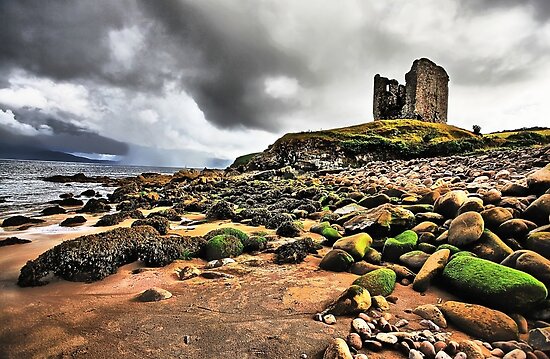 At Kilmurry Bay in Minard, Dingle, Ireland are the remains of Minard Castle. In this image, the rain is approaching from across the water and the sun was still managing to light up the moss and grasses.
The Castle towers over a beautiful natural storm beach, the boulders being thrown up by the sea during storms. A considerable portion of the castle remains. Walter Hussey, a Norman who settled in Dingle, had a garrison there in 1641. Colonels Lehunt and Sadler beseiged the castle. The castle defenders, being short of ammunition, were forced to use pewter bullets. As soon as the besiegers noticed this, they approached the castle by stealth, placed a charge under it, and blew up a great section; all of it's occupants were then killed.
Canon EOS 5D Mk II Lens EF17-40mm f/4L USM @ 17mm.