See my work in the 'Magicians of Still Life' exhibition,
sponsored by Solo Exhibition,

See my work in Painters Academics' For the Love of Art,
sponsored by Solo Exhibition

September 2012 Juried Invitational Exhibition

Elena Oleniuc Fine Art Award
for Excellence in Colors and Texture
SoJie 19, September 2012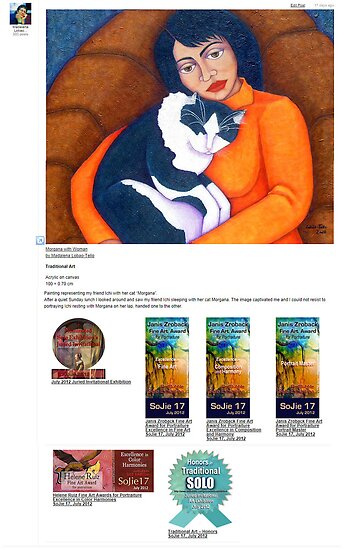 July 2012 Juried Invitational Exhibition
---
I am a Portuguese visual artist and I live in Chile
Some time ago, when I was in Portugal, someone ask me to write what I thought of my artwork. This was what I wrote:
Latitudes and Attitudes
◾Latitude imposed
In me, there is also the spirit of the Portuguese sailors and adventurers.
It all starts with the journey imposed from the old world, the colonial Portugal to Mozambique, in Africa, full of black ethnicity , magic, shapes, textures, lights and a fantastic colorful splendor .The distance between my dormant origins and the sudden awakening does not exhaust the endless question: Who am I? I experiment this fabulous latitude, mixing it with other lives, other pains, with the purity of color and pattern of tiles they call Mestiza .
I built Attitudes from my Latitudes.
In these Latitudes, I searched the jungle light seeds that populate my paintings and ceramics.
In these Latitudes, I found the mestizo that inhabiting my works.
My Latitudes and Attitudes and the mix of color and pain that confronted me during this precursor of life determine my pursuit of art within the human being, specifically in the Universe of Being a Woman.
I am aware that in art, knowledge is to move, that art does not interpret, reveals, does not explain … shows the hidden side of the human being.
What I paint is therefore a journey inside the mind … in the "doors and windows of the soul", female territories of connection with Life and Divinity.
These Latitudes, my attitudes and through Art I continued seeking the experiences of "Being a Woman".
Madalena Lobão –Tello
Porto (Portugal ), 2001
My artwork can be found in many private collections across Portugal, France, Mozambique, Switzerland, Chile, Nicaragua and Argentina.
©All rights reserved
Copying, altering, displaying or redistribution of any of my images without written permission from the artist is strictly prohibited. My art does not belong to the public domain. Materials may not be reproduced, uploaded, stored in a retrieval system or transmitted, copied, edited or published in any form or by any means without my permission.
-——————

Magicians of Still Life
June 2014 Invitational Exhibition
Still Life Paintings group
sponsored by Solo Exhibition
http://solo-exhibition.com/images/Host-Hullabal...
5th Annual Host Hullabaloo!
Spring 2014 @ Solo

*"April 2011 SoJie 10
Earth Day exhibition":

PROUD MEMBER of Still Life Paintings