See my work in Painters Academics' For the Love of Art,
sponsored by Solo Exhibition

September 2012 Juried Invitational Exhibition

Elena Oleniuc Fine Art Award
for Excellence in Colors and Texture
SoJie 19, September 2012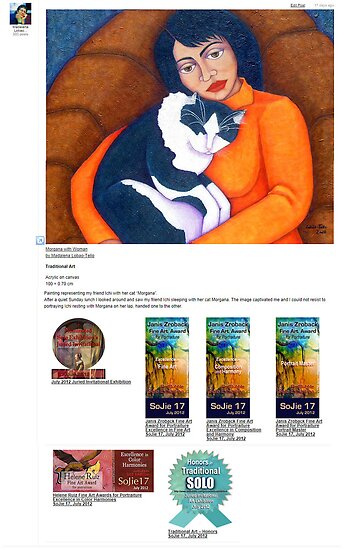 July 2012 Juried Invitational Exhibition
"Biographical notes"

I was born in Gavião, in the Alentejo, Portugal, some time between the 2nd World War and the War in Iraq. I have 3 sons.
Up until the age of 4, I lived with my family in Portugal and then we went to Mozambique.
In Mozambique, I grew and I developed as an artist and person, in a world where the suffering was, and is, ever-present – and yet is also a place full of colorful, fantastic forms, textures and lights. I fell in love more and more with those forms, colors and lights that opened before me in all their fullness and force.
Between 1984 and 1986 I lived in Nicaragua, where I felt deeply moved by the suffering and the poverty of its people contrasting with the strong colorful of Central America
In 1986, I came to Chile, arriving the country which was still in the heat of the Pinochet dictatorship and I accompanied the people there in the difficult evolution to democracy. In this long and narrow strip of Earth, flood of resistances, in which colors of pastel tones predominate, I learned again how to live, and also to resist this self-imposed exile, but I do not very often accept the load of pain and solitude that accompany it.
In 2000 in one stay in Portugal, moved by the solidarity and the gentility of my original country and by those who accompanied me at those moments, deeply sensitized by the beauty of the landscape, that I compare to a perfect naïf painting, and I was struck by the historical and cultural wealth present in each corner, seat, tile; in the Ribeira, in the city of Porto, I discovered a world of beauty. The ceramics showed in all its present fullness and in all the spaces monopolizes my attention. They are other forms, colors, lights and textures. They are other pains…
From my return to Chile I knew in depth the meaning of the words deceit and solitude. Here I felt too much alone and wild. In Chile, free to go where I pleased, but prisoner of my memories, tired of the lack loveless ness, tired to feel run the minutes and the seconds; occult to the eyes of who I love, ignored for you, incapable of expressing all my tenderness, nauseated by a society that denies the love like value, on the brink of madness and suicide but incapable of committing it, I discover again the regenerative force of ceramics and the sculpture as a form of expression. To model my pieces reminds me the years of childhood, the freedom to enjoy nature and to unify myself with her, without barriers, without fear, with total confidence. As I belong to the Earth I become mud. I do not belong to this geographic place but uniting me to the mud, I try to put down roots to be able to feel at home.
The interminable search for my identity drove me to return to Mozambique in 2004, where I remain for nearly a year. The extreme poverty of the people of Mozambique, the suffering of people, the narcissism of the dominant class, the violence and the fear that is ever-present in day to day life, drove me again to leave Mozambique. It was the encounter with my past and the end of a permanent homesickness of Africa. I go away sure of not wishing to belong to this reality and finally conscious of my quality as a citizen of the world.
My Imposed Latitudes and Attitudes and my mix of pain and Color confronted with me during this life determine my way in the Arts within the Human Being, specifically within the universe of Being Women.
What I paint is therefore a journey through in the spirit … To the "Doors and Windows of the Soul", female territories of connection with the Life and the Divine.
To the pain, the suffering, loneliness, the longing and sadness I reply with my Women, all of them alone, with big sad eyes and, laden with grief, but protected by a universe of shapes, lights, colors, textures and symbols.

Madalena Lobão-Tello
My artwork can be found in many private collections across Portugal, France, Mozambique, Switzerland, Chile, Nicaragua and Argentina.
©All rights reserved
Copying, altering, displaying or redistribution of any of my images without written permission from the artist is strictly prohibited. My art does not belong to the public domain. Materials may not be reproduced, uploaded, stored in a retrieval system or transmitted, copied, edited or published in any form or by any means without my permission.

Madalena Lobao-Tello Gallery

*"April 2011 SoJie 10
Earth Day exhibition":

PROUD MEMBER of Still Life Paintings