The miniature origami of Mui-Ling Teh - The true story in her own words (February 14, 2010)
In January 2010 I was approached by a news agency interested in my miniature origami works, then in February I appeared in a number of UK publications. However, much of the information was changed from what I had originally provided, as well some of my images got cropped and edited, hence losing their full essence. This has become a problem as bloggers are believing what they read, and re-posting the discrepancies posted by the press. Meanwhile they are not seeing my images in the way I had intended to present them.
Some of the discrepancies had even hurt me. Some stated that I created the smallest origami 'in the world' which I never said. I even clearly stated in my interview that I knew of others who could fold smaller than me. For a claim I never made, I was criticized and made a mockery of in public forums. Such activity was repeated in the comments of the Metro; and the other sources of errors/misleading information was of no help.
In the past few days I have contacted a few of the bloggers repeating the discrepancies and requested that they could fix their post; and I have heard back from a few who have done so. I hope this post will be read by more, including other bloggers who I have been unable to contact – and hopefully they can help me by revising what they have posted to decrease the spread of false information ; or simply put up a new post linking to my story (and deleting their old one). Additionally, any blogs or tweets leading to this post would also really help.
Meanwhile, I would also appreciate it if the bloggers can take down the images they got from the news sources. As I said earlier, much has been altered and cropped. My Born From Fingers, for example, is supposed to look like this:
.
However, in the publications, it was presented like this
My image was artificially coloured, but not only that, there is even fake skin colour spilling onto the white paper cranes.
Detail: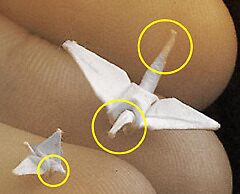 .
This is not the only image that has modified in such a manner…
.
My original Born from the Hand

Detail of artificial colour running over the bottom of the crane: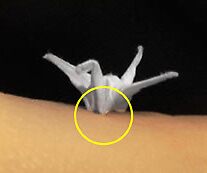 .
It is very disheartening already that my image was modified, but even more so that it was done in a very poor manner that it degrades the way people see my photography.
…
I would rather the bloggers post a link to my portfolio here so that they can be seen in their original, unmodified, format, and understood through my descriptions. My work is not simply about the ability to fold small; there are people who can do that better than me.
The presentation of my work, is also an important element; which every publication has failed to address while presenting altered images that lost their essence. That said, if bloggers can also remove whatever links they have to the news articles with misleading words and images, I would be grateful.
The following below are the original interview questions I received, and my answers to them (Though, I took out some to shorten this post, and anything in italics are things I have decided to add today for clarification based on errors in the publications). Thank you for reading.
.
Is this a hobby or part of your job- are you an artist?
Currently this is a hobby, and I am an artist. It would be my dream to turn this into a job, but in the meantime I just have photos posted online at RedBubble and Zazzle, where they can be bought as cards, prints, calendars and more.
What first inspired you to start experimenting with origami?
Back in elementary school my teacher read to our class the story of "Sadako and the Thousand Paper Cranes". While Sadako Sasaki was in the hospital, friends and family saved scraps of paper for her to fold paper cranes out of. One day, Sadako's mother paid a visit and gave Sadako a piece of paper which her sister saved for her. Sadako took the paper and said "Mmmm, smells like candy. I hope God likes chocolate". Everyone laughed including Sadako.
After being read that story I went through an origami obsession; I saved bits of paper and candy wrappers, then did origami out of them. Candy wrappers were often rectangular, so I'd cut the biggest square I could out of them and fold candy wrapper cranes. Afterward I'd make smaller cranes from the left over bits of the candy wrappers, and then attempt to make even smaller cranes from the leftovers of the leftover. As time passed I have enjoyed folding more origami apart from cranes; including flowers, animals, ornaments etc. I have never said how old I was when I began this obsession, and for some reason the news inserted that I was nine. But for the record I was ten. However, I wouldn't say that I began folding miniatures at this time.
Did you start making very tiny models, or has it got progressively smaller?
I began folding my series of miniature models around the beginning of April 2008. One day I took a random strip of paper and cut a square to fold a crane out of it. I was daydreaming so I wasn't paying attention to how small the paper was. After completing the crane I realized it was rather tiny. This is the crane I present in my piece called Born from the Hand. I only used tweezers for the last few folds. The paper size must have been about 15×15mm. After I folded that crane I decided to try folding an even smaller crane, which I present in Born from Fingers and Born from the Pinky. I also began folding various other models in miniature form. As the pieces were getting smaller or more complex. I needed to rely on tweezers more often. The smallest work I've created to date was Born from the Cell which was folded from a 3×3mm piece of trace paper. However when it gets that small it becomes very difficult to take a photo of; especially with a simple point and shoot camera. Normally I fold something at a size that can be photographed for a particular concept while still being impressively small.
When I produce something and photograph it, I do not only show my folding skills, but I try to set-up a creative scenario for my miniatures as well. Initially I had a hard time photographing my work; especially when I had to be both a hand model and a photographer using a simple point and shoot camera and no tripod. In Born from the Hand I had a hard time keeping my hand still, and sometimes the crane fell off my hand as I snapped the picture. Meanwhile, as I do not have a photo studio, I had to create a set-up myself, taking a black blazer and laying it over a box; this was my backdrop. But now I'm getting the hang of it; I suppose I can say my origami has also gotten me into photography. I do have a tripod now, although I don't know if I'll be investing into a new camera; I don't really need one that badly.
Are these the smallest origami models in the world to your knowledge?
Initially I did not know of anyone else who produced miniature origami like I did. Later on though I have realized there are other people who have also done miniature paper folding (including Sadako); some have folded smaller pieces even. The current record holder for the smallest folded crane is Naito Akira from Japan. I've only started folding miniatures about two years ago, and if I had the time to practice more I would like to attempt folding smaller; though I currently do not have access to a microscope or a very fine folding medium. But as far as my photography goes, I can't work with anything too small.
How long does it take you to create one of your pieces?
It really depends on what I fold; and how small. I tend to fold cranes a lot; usually with paper about 5×5mm big. Currently, folding one of those take me about 10 minutes. A flower; like the type I portray in Spring Beginnings (and various other images), also takes me about the same amount of time even though I used a 15×15mm piece of paper for that one; because the design is more complex. The 3×3mm paper crane, I believe at my first attempt took me about an hour, but later I have managed to fold one in about 20 minutes. But no other model at first attempt, except Fly took me that long though. The timing also depends on my state, the tools I have on me, and how much practice I have had with a particular model as the folding process for every one is unique.
Are you a very patient person generally – does this skill require a lot of patience?
This skill definitely requires a lot of patience; some models require much more patience than others; especially when folding a different design for the first time. Generally I am a patient person and I have to be in a calm state in order to do one of these models; or sometimes I fold something to calm me down.
Have you ever accidentally destroyed one of your models?
I have in fact lost a sample of my work not too long ago. In the past I kept a small collection in a little Kinder Surprise container. It fell out of my knapsack one very frustrating day at school, and later that evening the custodians, not realizing what it was, swept it up and threw it away.
What do your friends and family think of your skills in origami?
Not everyone has seen my work before, but those who have, as far as I can remember, are impressed. Some suggested that I can be surgeon or that I can make jewelery out of my origami. One has suggested that I would make a good model maker, which I have been considering. I have too many things I want to do but so little time!
What piece of origami are you most proud of?
In terms of the folded pieces alone, I have three in particular I am most proud of. First is the 3×3mm paper folded crane since it is my smallest creation. Then there is the string of cranes I folded in Fly ; that piece has required the most patience; you can read about it in the image's description. The third piece I am proud of is the Firefly Spacecraft. That one is based on the spacecraft in the television series 'Firefly' by Joss Whedon, and I came up with the origami design myself. Due to the complexity of the design though it is bigger than all my miniature pieces. I have come up with a few other origami designs before but this is the one I am most proud of.
As far as my photography goes, the ones where the concepts have most meaning I would say are Born from the Hand and Sailing Along the Lifeline. But I also really like Surprise and Fly for their liveliness. Overall Fly is my personal favourite piece.
What are your plans for the future with regard to your origami?
Well as I mentioned earlier it would be my dream to turn my hobby into a job. I enjoy setting up various photographic concepts with my work, which I hope to do more of once I am out of school. But it would be great if I can also do something with it such that others can enjoy the piece itself as opposed to only look at it from a photo.
I hope this will get read by many so that people will come to know the truth from my own words. Thank you all for taking the time to read and for the support.